i wish i would have taken more pics of my tanks from the beginning and i lost other pics by the way of computer crashes. well here it goes. this is my budget 14BC. all the rock in the tank is from an open field in las vegas. also if you look and say that there is flag stone in there that is used in landscaping...yep that is what is is. so in all i spent $0.00 on my rock. when i first started the tank, i used crushed coral but that gave me so much problems that i finally broke the tank down and threw away all of the CC and put in regular fine white sand. i left a little CC for aesthetic reasons. for lighting, thanks to Evilc66 and waterproof, i did a DIY LED retro lighting system with blue LED moonlights from measure explorer on ebay setup on autotimers. i had a custom sump that i built, but that blew up on me last christmas. water every where!. the only mods i have done to the tank other than the lighting was i replaced the stock pump for a mj900 with a hydor flo. i have stevie t's media rack in the back with carbon, soon to have cheato, and pillow stuffing on top. for a heater i have an el cheapo 50w tetra mini heater from walmart which fits nicely in the 1st chamber. enough talk here is an old pic, well as old as i have, an nothing to brag about. so here is my modest tank: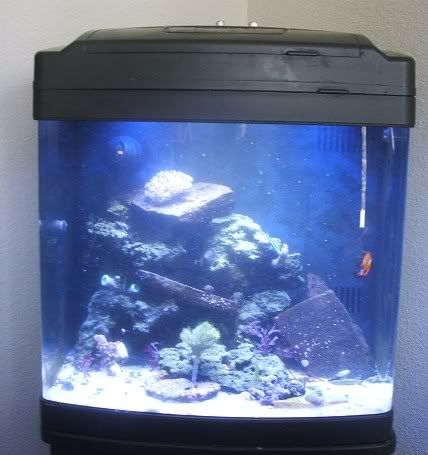 it not much but it has grown some. here is an updated pic of the tank as of 8/9/09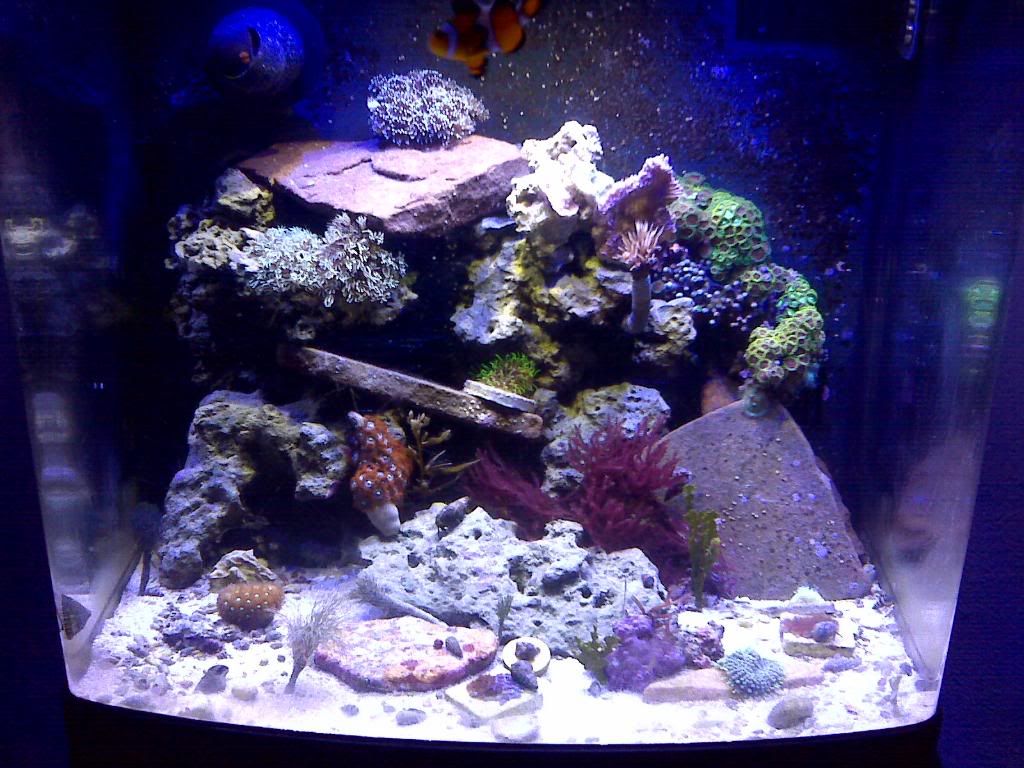 livestock:
CUC
red and blue hermits
dwarf ceriths
Florida ceriths
limpets
bristleworms
of coarse pods
stomatella
peppermint shrimp
nassarius vibex
fish
ocellaris clown
neon goby (R.I.P)
feather duster
corals
acans (orange and blue) pics on page 2
metalic green mushrooms pics on page 2
fire and ice zoas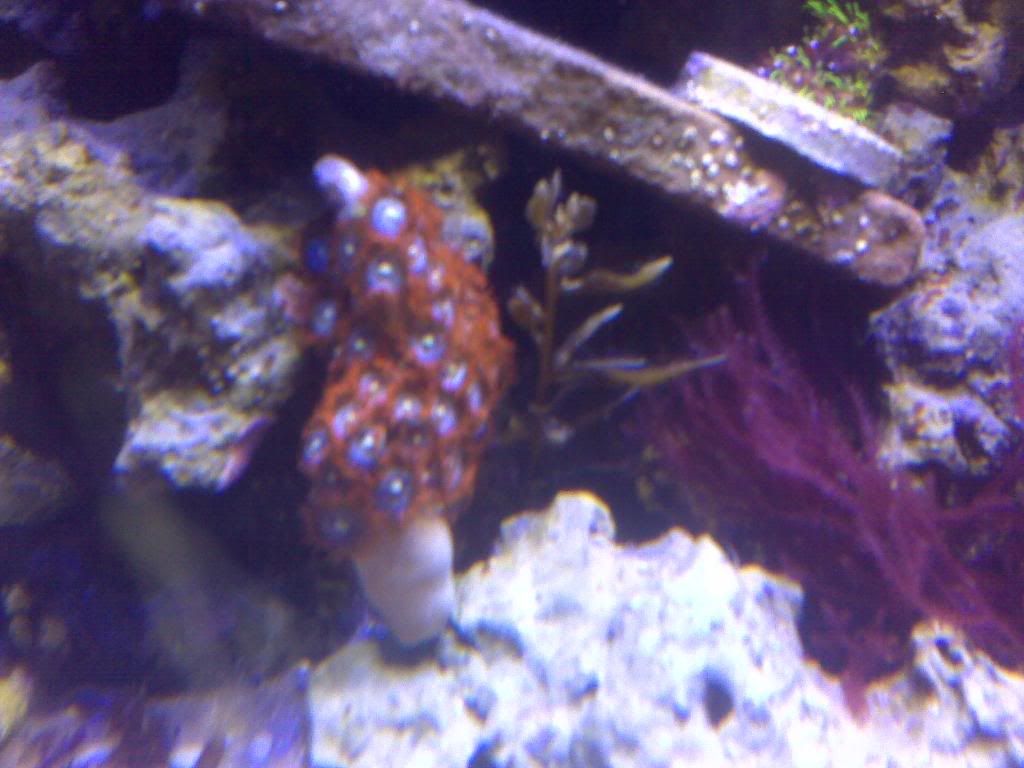 blue rics
pink panther zoas
sonalara (spelling?)
tri color/orange ric (is hiding behind rock and flame algea)
galaxea
pipe organ polyps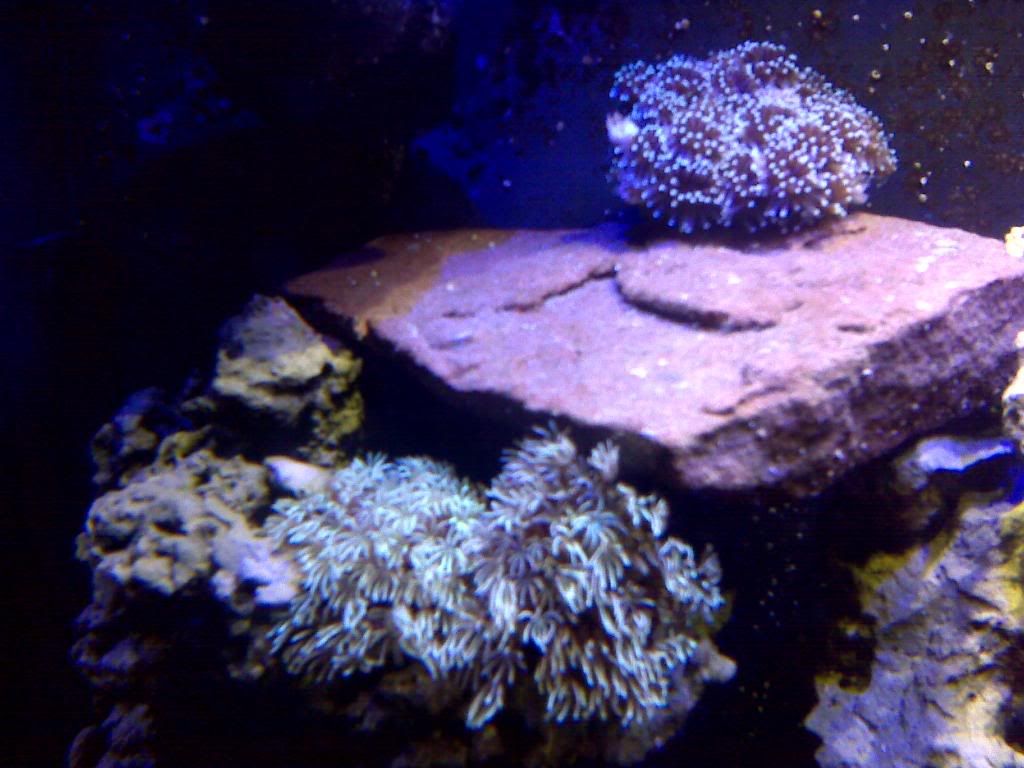 red, orange, and green monti's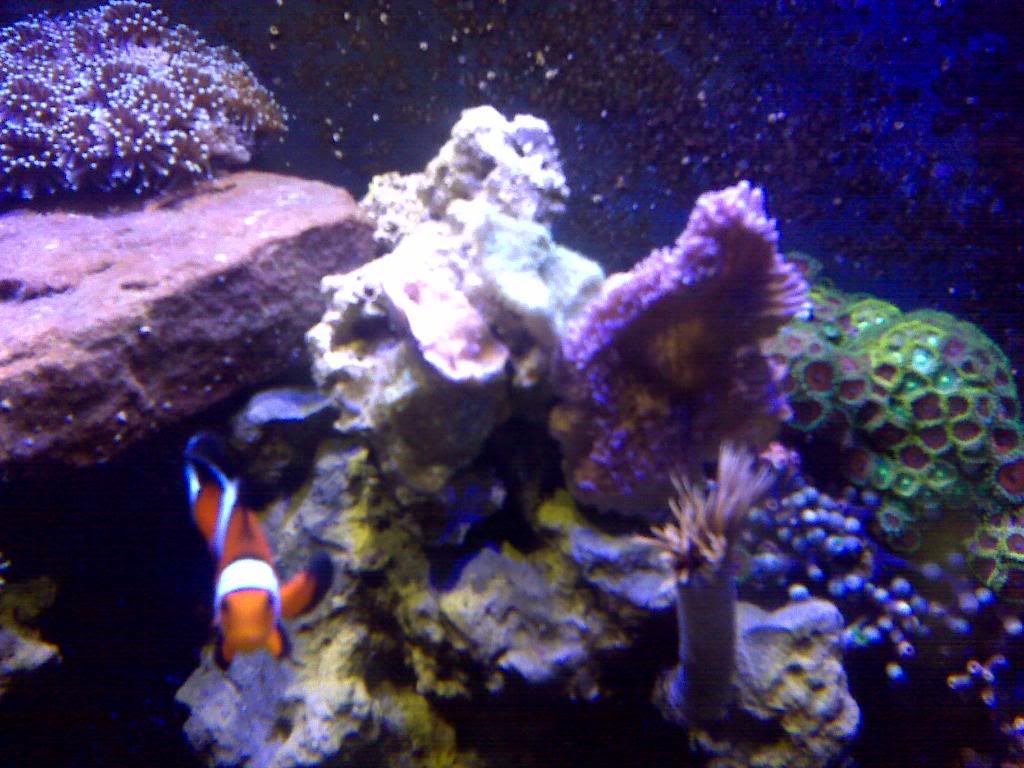 green star polyps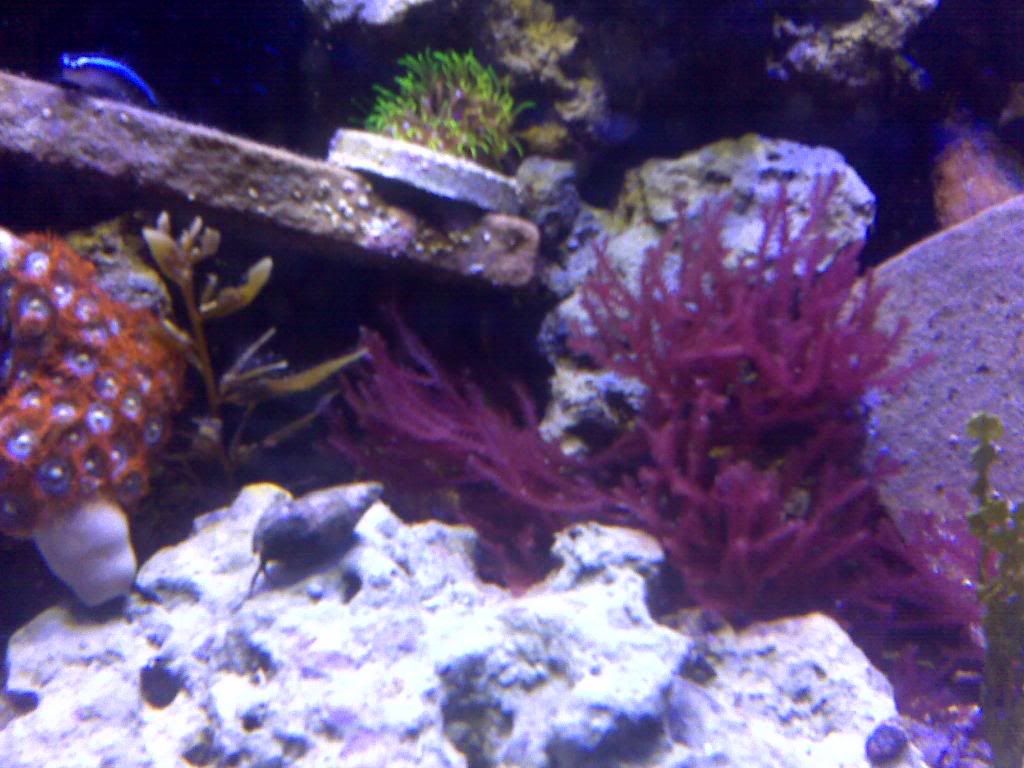 and a various zoa rock which i believe has watermelon zoas, neon green, and some other zoas yet to be identified ($40 from Petco!)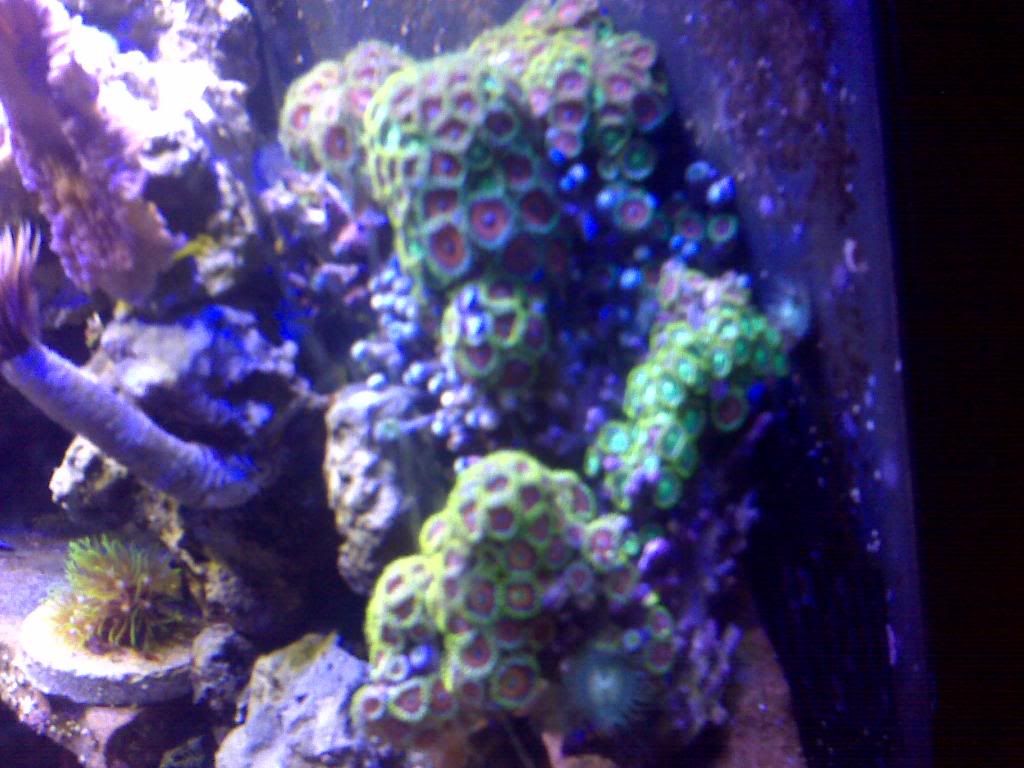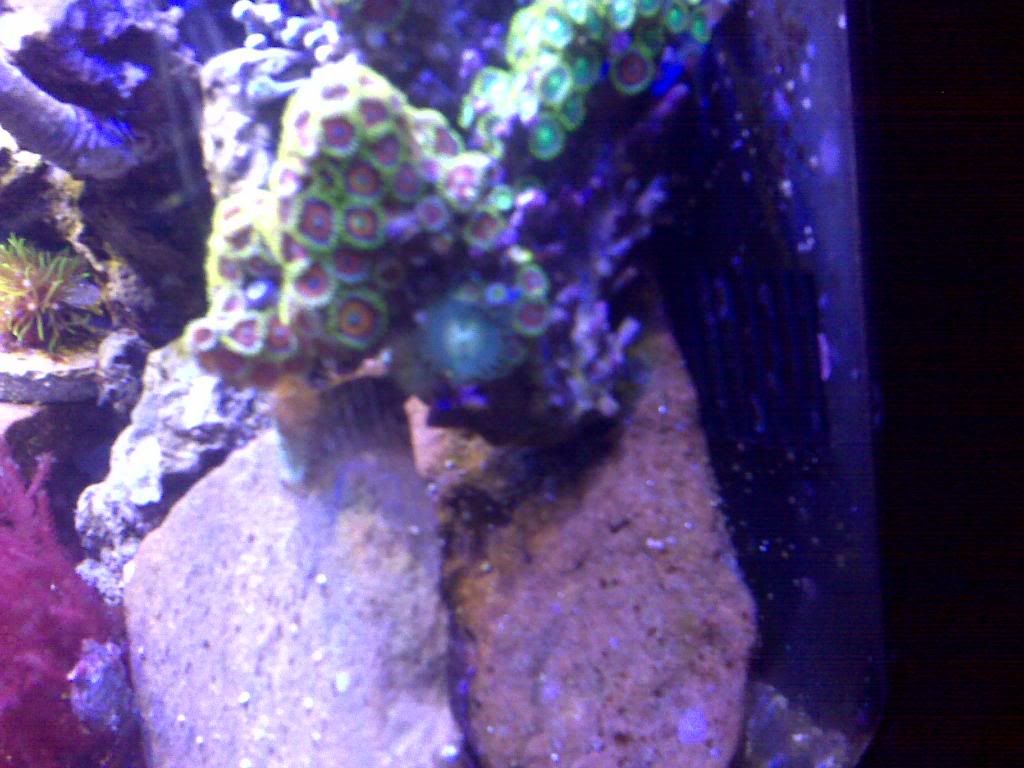 candy apple cyphestrea
blue zoas (dont know real name)
macro algea
flame algea
brown unidentified macro algea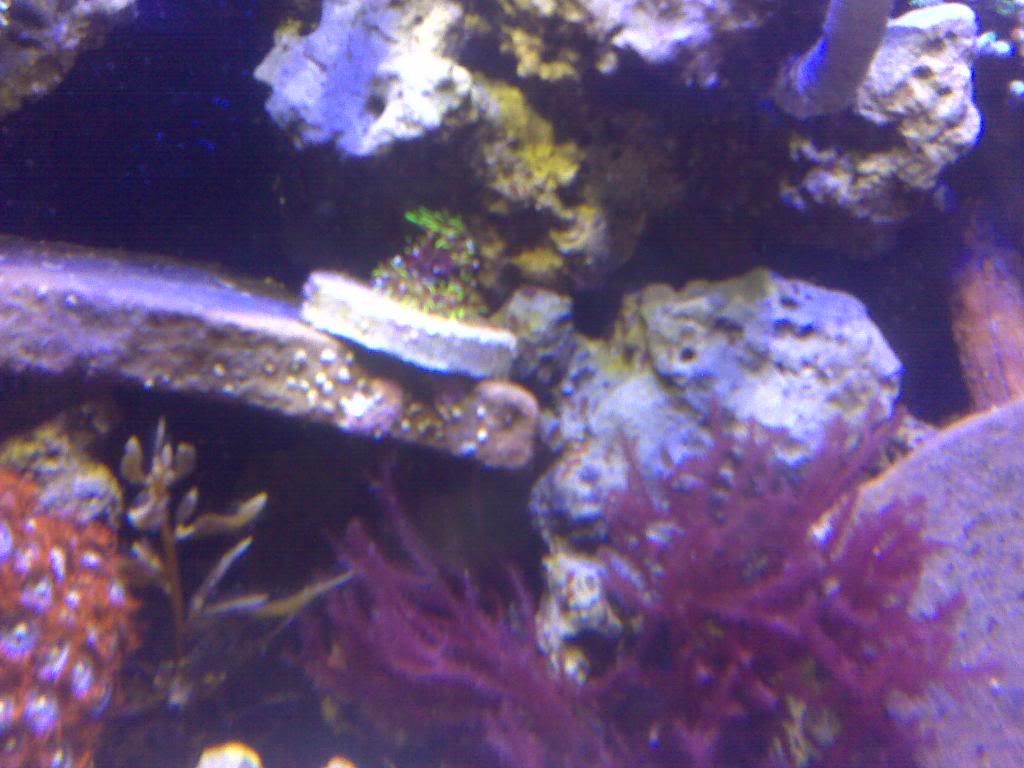 a red fern (? that's what the LFS called it)
Halimeda
mermaids brush (3 has popped of from the orginal one now passing away)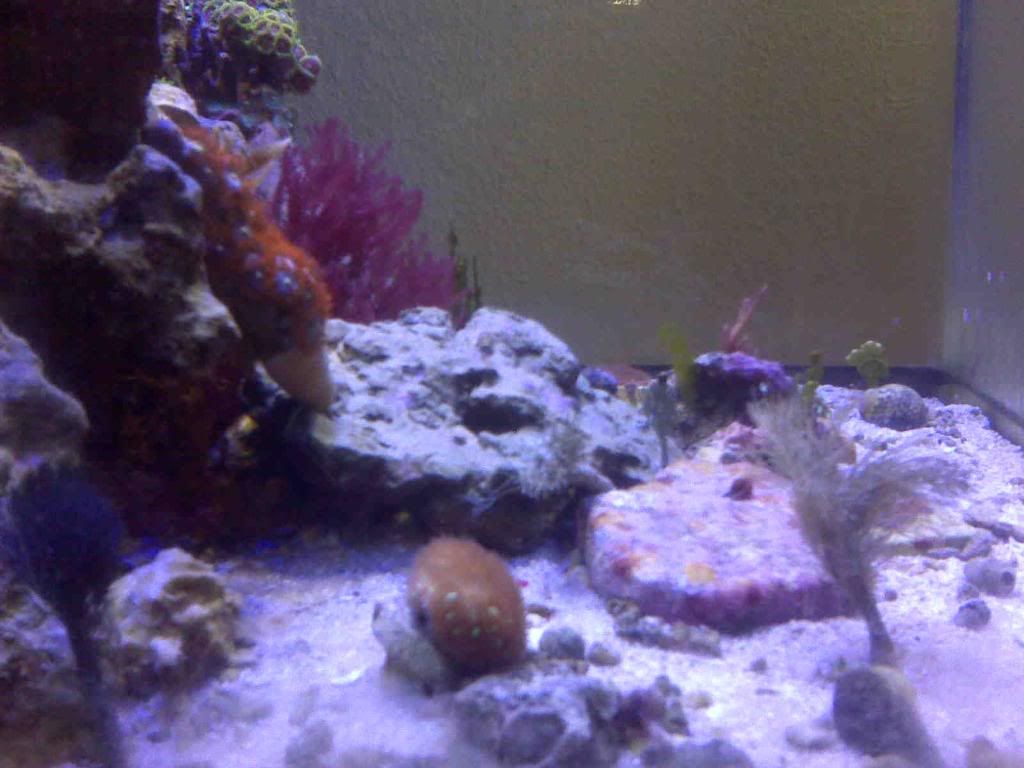 so this is my little budget tank so far.
bad pics, bad camera (broke so i used my cell phone)
anyways i hope you enjoy it
the 2 best things i did to this this tank is the LED lighting and changing out the CC for reguar white sand. i have had no problems since.
ps the candy cane coral was relocated to my 37 gal. the clown was beating up up. it looked like he wanted to swim into the candy cane mouth or was french kissing it. he was beating it up and pushing it all over the tank.
recently added another candy cane, maze brain, pink pipe organ
no more corals for this tank. i'm just going to let it grow/fill out
new pics on page 2
Edited by deepdvnarq, 07 November 2009 - 11:26 AM.