So far my stock list consists of:
Fish

- pink streaked wrasse
- yellow coris wrasse

-pair of true percs (I've had them for well over 4 years now)
CUC


-5 scarlet red leg hermits
-7 astrea snails
-5 blue leg hermits
-2 emerald crabs
Corals


SPS
- Tyree Ponape birdsnest
- Tyree rainbow monti
- Tyree Idaho Grape monti
- ORA blue mille
- ORA Red Planet
- ORA Birds of Paradise
- Orange monti
- Green w/ purple rim monti
- Purple monti
- Yellow w/ purple polyps encrusting monti (forgot the name)
- Tubbs purple polyp birdsnest
- Yellow Porites
- GCR Tri color acro
- red mille?
- Cali Tort
Z's & P's
- Nuclear Greens
- Fire & Ice
- Eye of Rah
- Kedds Redds
- other various unknown zoas
LPS
- Kryptonite candycanes
- Frogspawn
- GCR super red acans
Softies
- ORA toadstool leather
- red mushrooms
- blue mushrooms
- various rics (about 30 of them)
Equipment
- 30" sundail (2x's ati blue plus, ati aquablue special, uvl aquasun)
- Tunze 9002
- Mp10
- Mj900 (return pump)
- ATO (old one from topoff.com) w/ aqualifter
- ACJR
- BRS 1.1ml per minute dosing pump (dosing alk)
- Bubble Magus triple doser (automated wc's and Ca dosing)
- Stealth 50w heater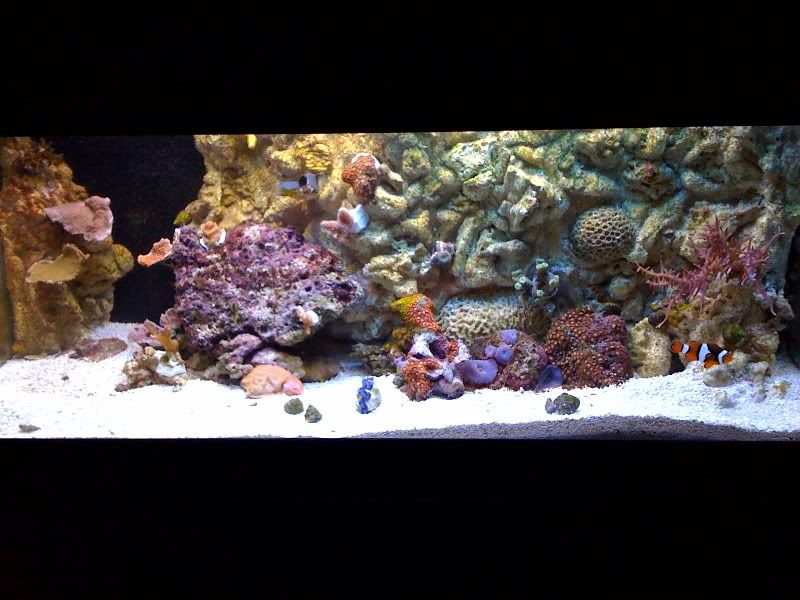 I'm getting rid of my 40g and downsizing to a much easier to keep syste. I decided to DIY an AIO from my old 20L frag tank. This tank will be used to house my pair of percs, a sixline, a bunch of softies, a little bit of SPS, and maybe a couple LPS......maybe. Enough talk, on with the pics.
I cut up some acrylic an built the filtration compartments. From left to right- return chamber, media rack chamber (media rack will include 3 tiers. One for carbon and gfo, one for chaeto, and one for filter floss), skimmer chamber. I haven't decided definitively whether or not I will run a skimmer on this tank. If I do (and I likely will), it will be a Tunze 9002, which will fit perfectly.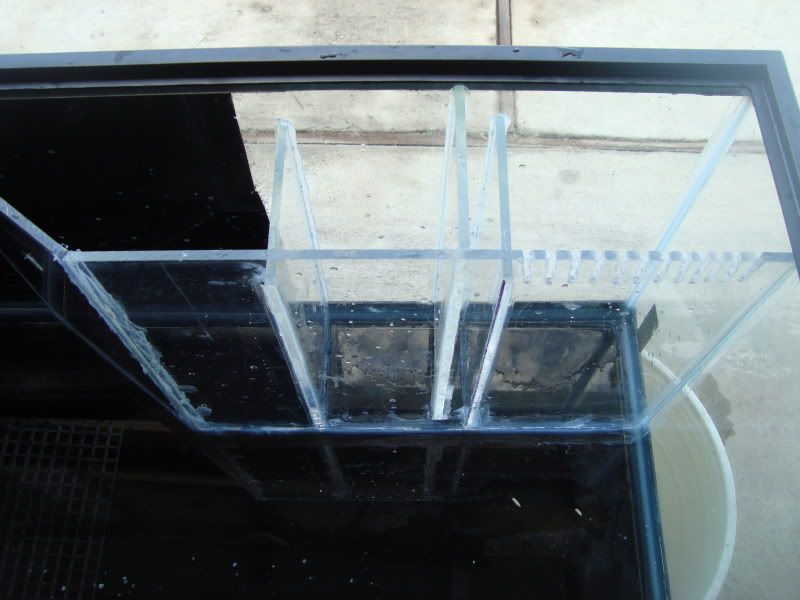 Then I used a ton of silicone to attach some eggcrate in the places that I wanted to cover with foam for the rockwall.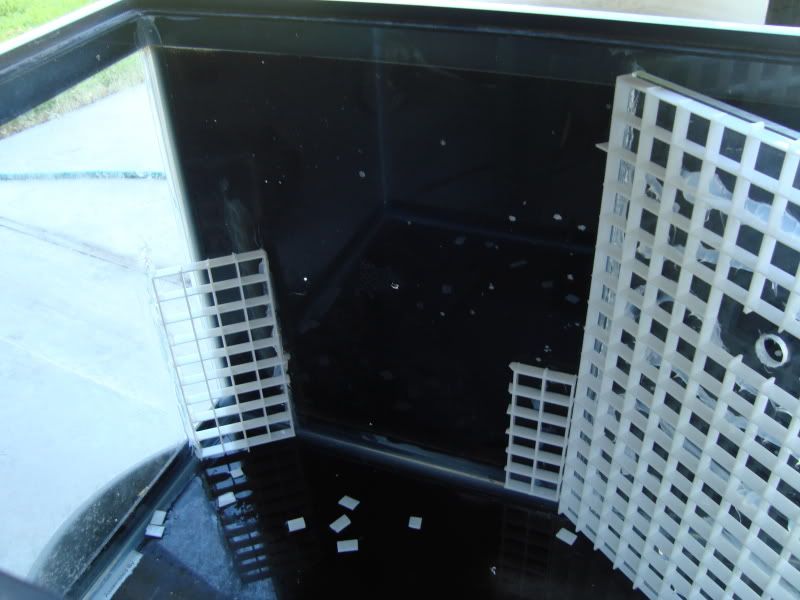 Half way done with the foam rockwall. I used "GreatStuff", you can get it at home depot for about 5 bucks. I also pushed pieces of LR rubble into the foam and sprinkled sand all over it while it was curing.
Left side of the tank. I left a little bit of the wall exposed to create an illusion of depth. With the way I've arranged the LR in the tank, and the way I plan to place corals, this should work out very well.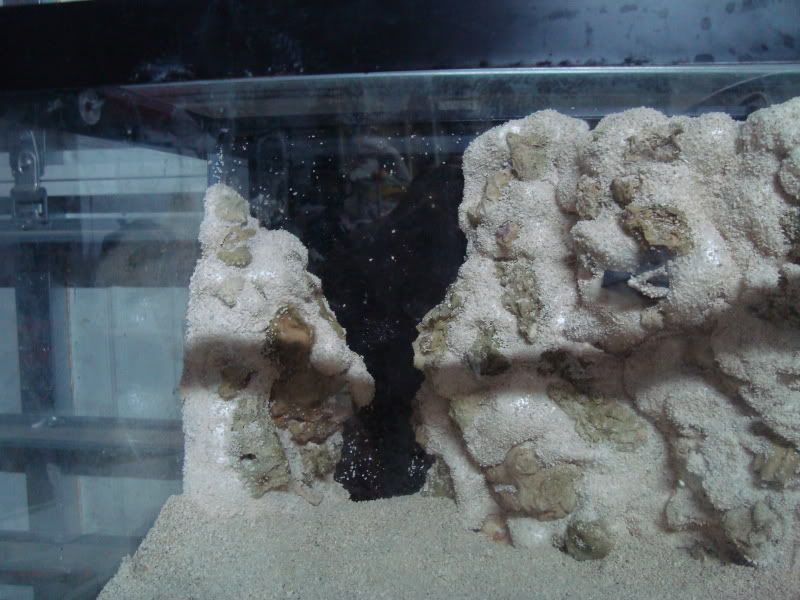 All foamed up!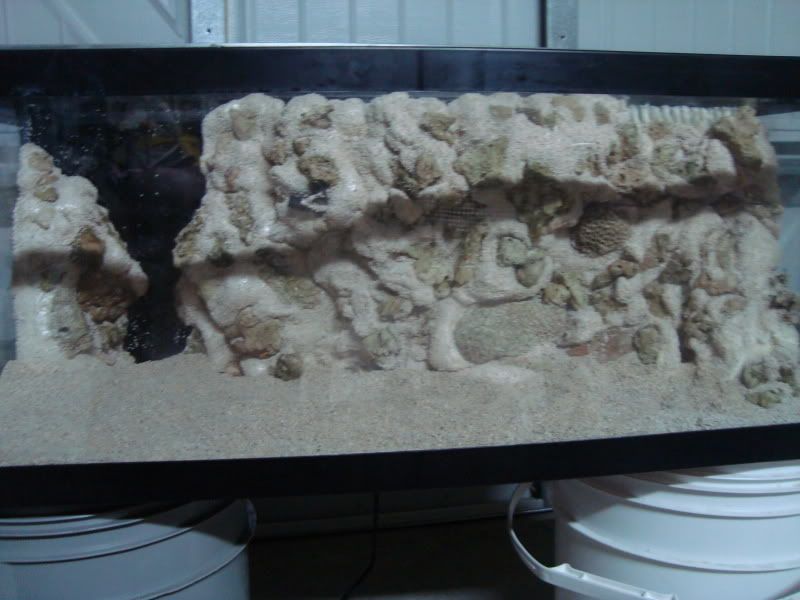 We have water!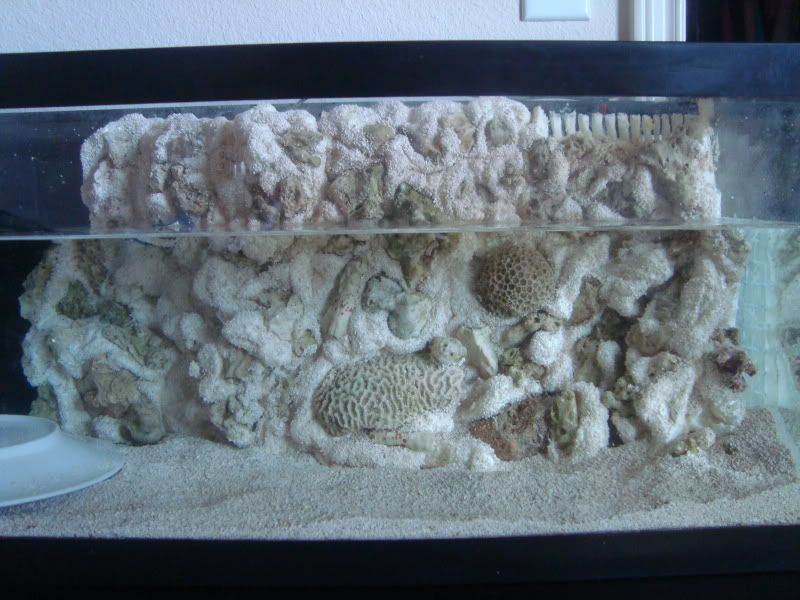 Plate coral.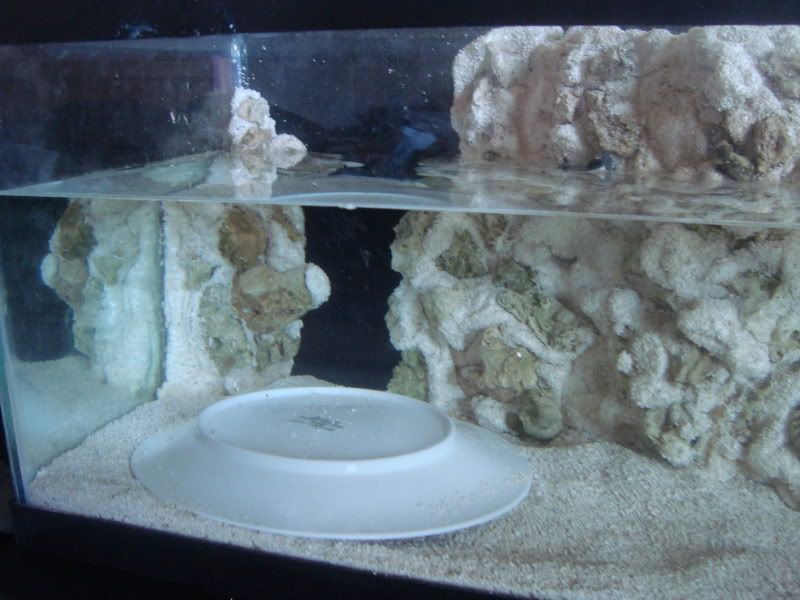 Everything is working perfectly so far.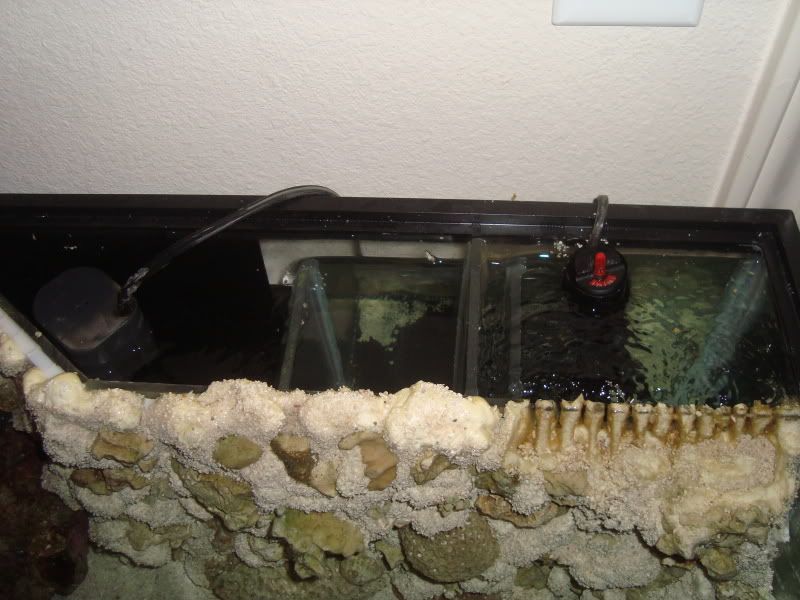 Plenty of flow on the left side of the tank which is where the SPS will be. Slower flow on the right side that will be covered in rics, shrooms, zoos, clove polyps, etc...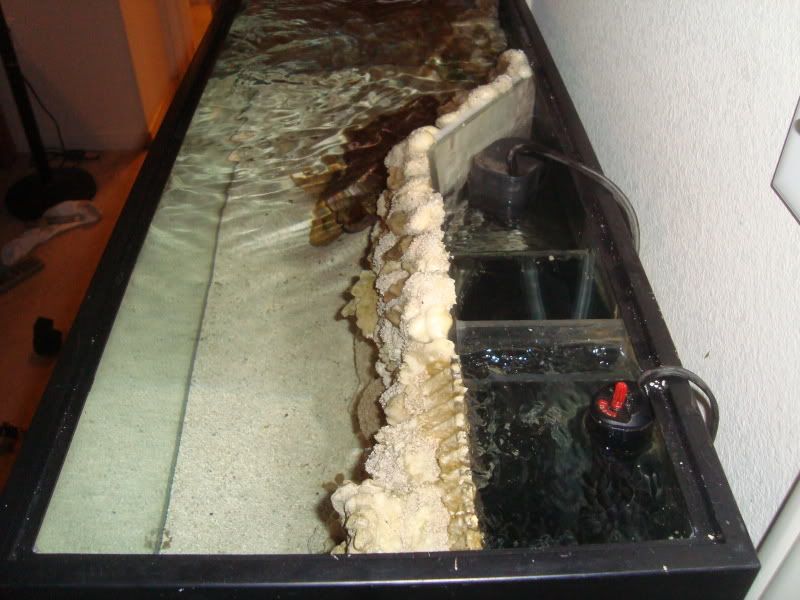 I took ~6 lbs of LR from my 40g to seed this tank. I tried to make a little cave that extends outward. Here's what I came up with.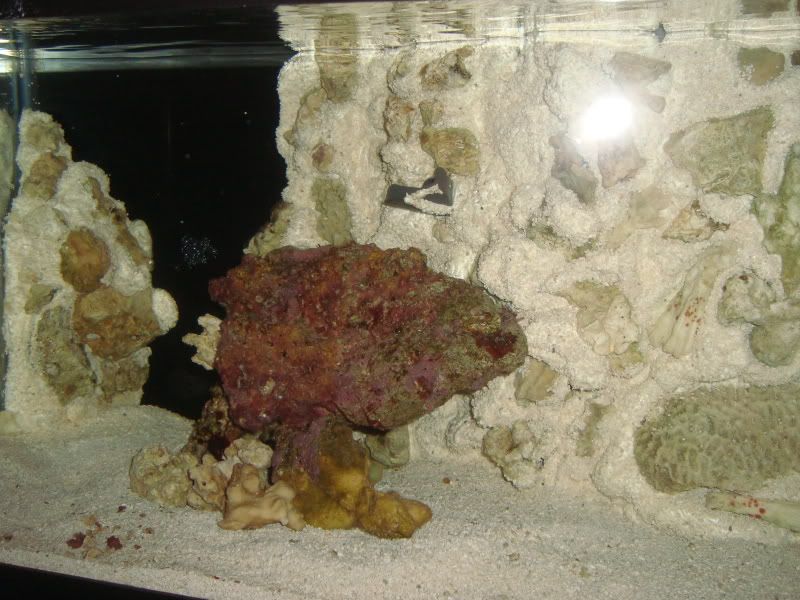 FTS.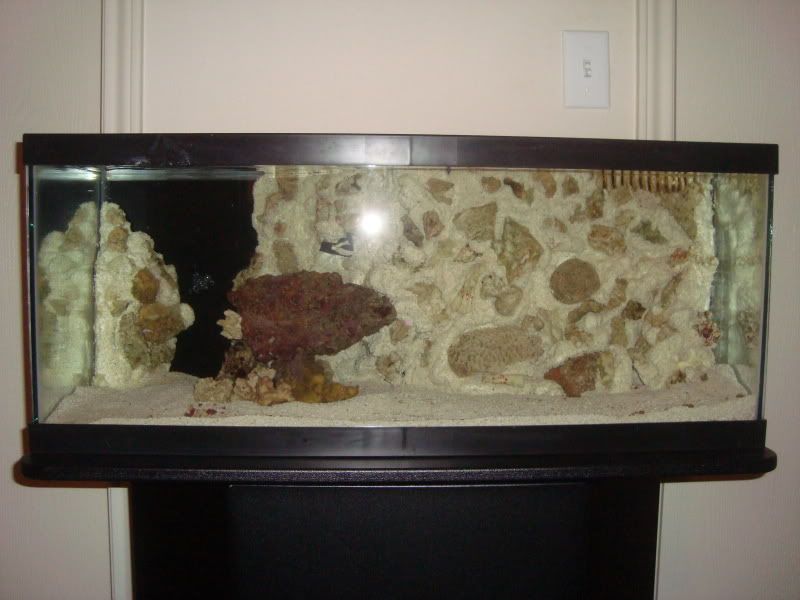 That's what I've got so far. The equipment that I'm using / plan to use are an MJ900, 2x's 24w T5's on an Icecap 430, a steath 100w (I think) heater, and a Tunze 9002.
Edited by glennr1978, 29 October 2010 - 09:43 AM.