**New FTS**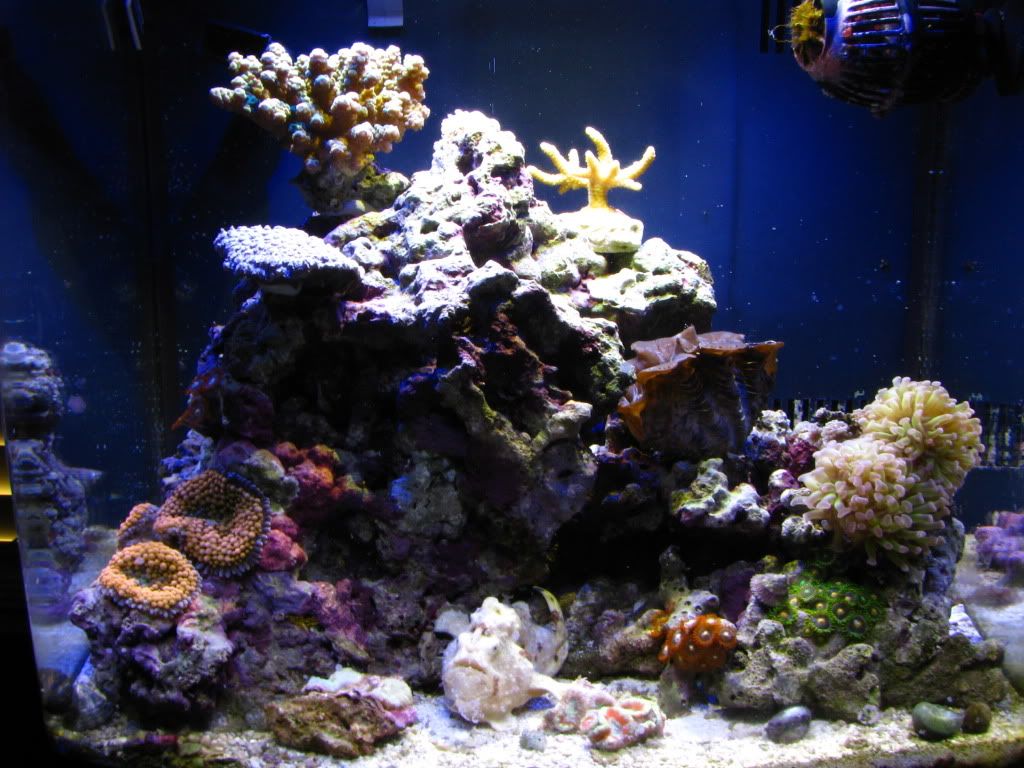 Hey everyone, I thought it would be nice to start a tank thread about my BC14 that I've recently set up. The tank is a little over a month old. It was a really fast soft cycle, only took about a week. There is so much life growing in there!
-Setup-
Oceanic Biocube 14
Oceanic protein skimmer (doesn't work the best, but once you get it working it does some good.)
InTank refugium with chaeto, chemipure, and filter floss
InTank sub. lights (both the lights and the refugium are highly recommended, very good stuff!)
Koralia nano
Maxijet 900 with Hydor head
JBJ ATO with 2 gallon resevoir (I hope to go bigger, just wanted it to fit in the stand)
Evil66's fan mod with two silenx 60 mm fans (I highly recommend this to anyone with cooling problems, lowered my temps almost 4 degrees.)
-Rock-
12 lbs of primo indonesian LR. This stuff was expensive, but worth every penny. There were a TON of cool hitchhikers including feather dusters, button polyps, etc... And the shape of the rock was perfect. Pictures don't do it justice
I also have 2 lbs of some unknown rock I got from a different LFS to use as supports for the structure as well.
-Corals-
None as of yet, but I'd like to get some really cool stuff like torches and a hammer and zoa's, but I have to do some reading first to see if thats even possible!
-Sandbed-
I used 15 or so lbs of Arag-alive. It's about 1-2" thick. Not a real deep sandbed but definately a good size.
-Livestock-
Male and female pair of Black Ocellaris. I know these are fairly common in the hobby and not the coolest of clowns, but I fell in love with this pair at one of our LFS and have been smearing my nose-prints on their glass for the last few months before I bought them.
I also have a yellow watchman goby that has since gone MIA when I put the clowns in. It's hard to tell if he got eaten, is hiding, or died from his petstore injuries
I really hope he shows up.
-CUC-
(2) dwarf blue leg hermits
(1) dwarf red leg hermit
(2) Ceriths
(2) Black margaritas (awesome glass cleaners)
(2) Nasarrius (sp?)
(1) Astrea
And finally for some pictures!
Some might be foggy because I stirred up the tank and made a mess with my turkey baster. And I need to mess with my camera settings more to get good shots of the clowns, as they like to bob up and down constantly....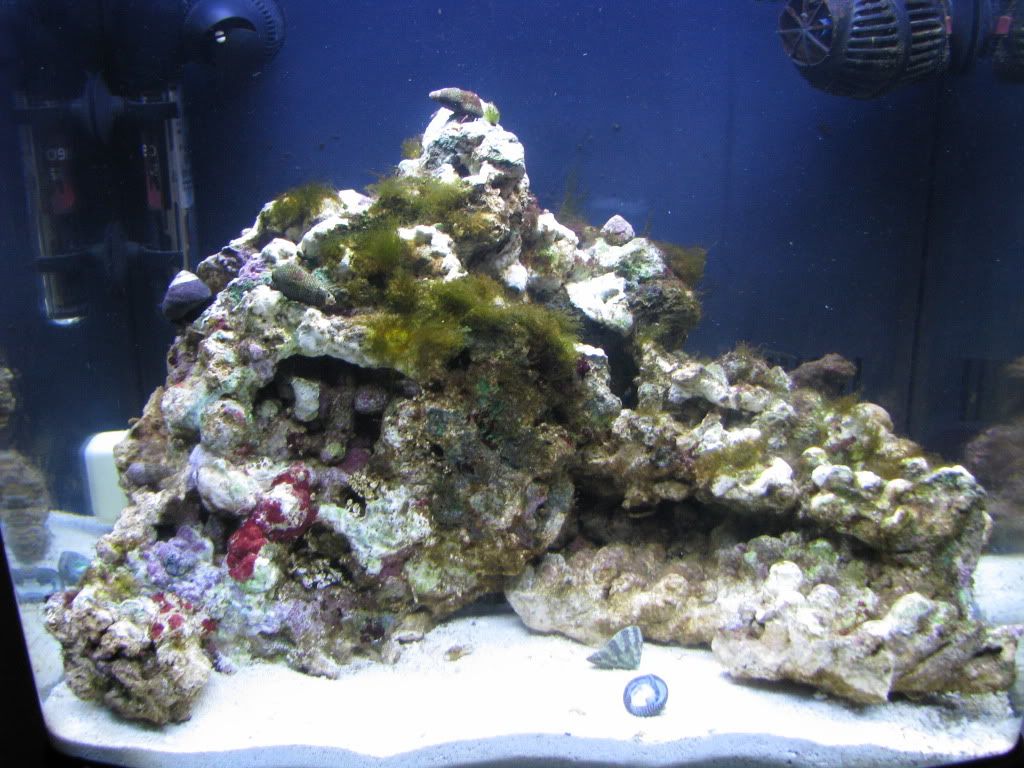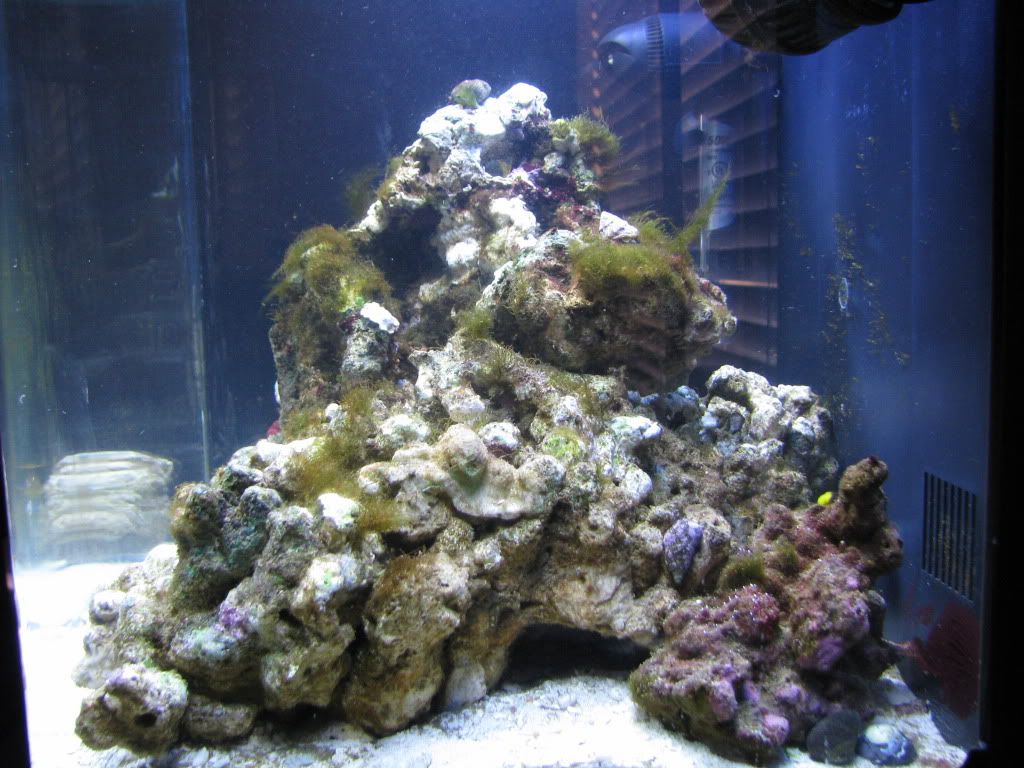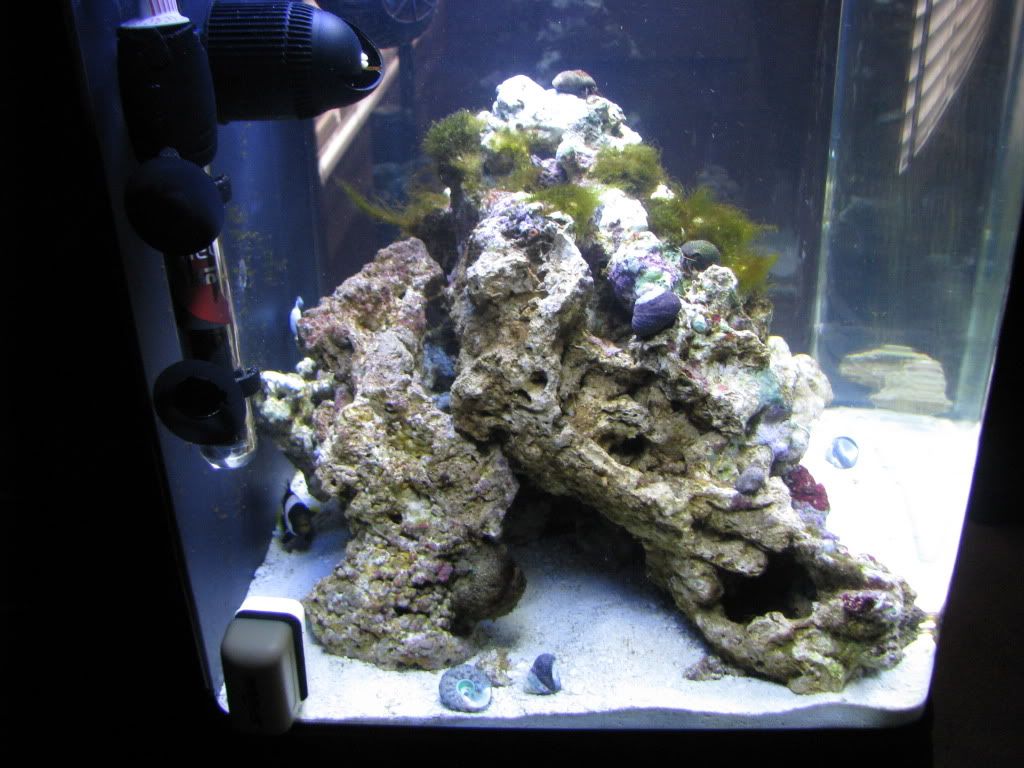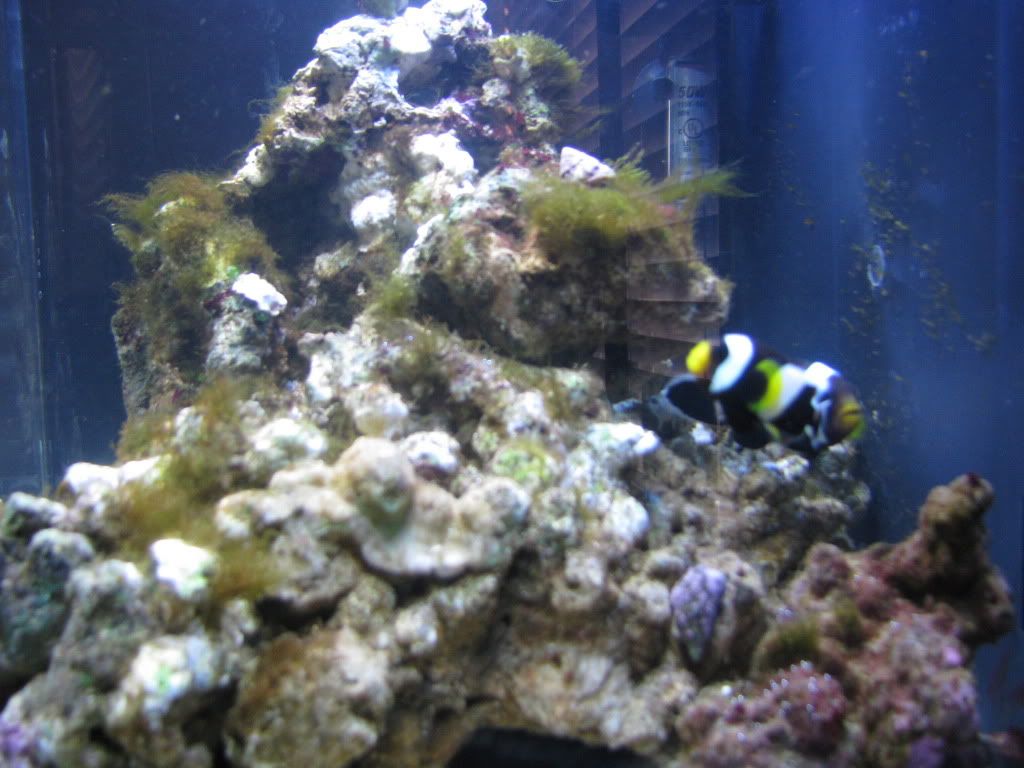 ATO setup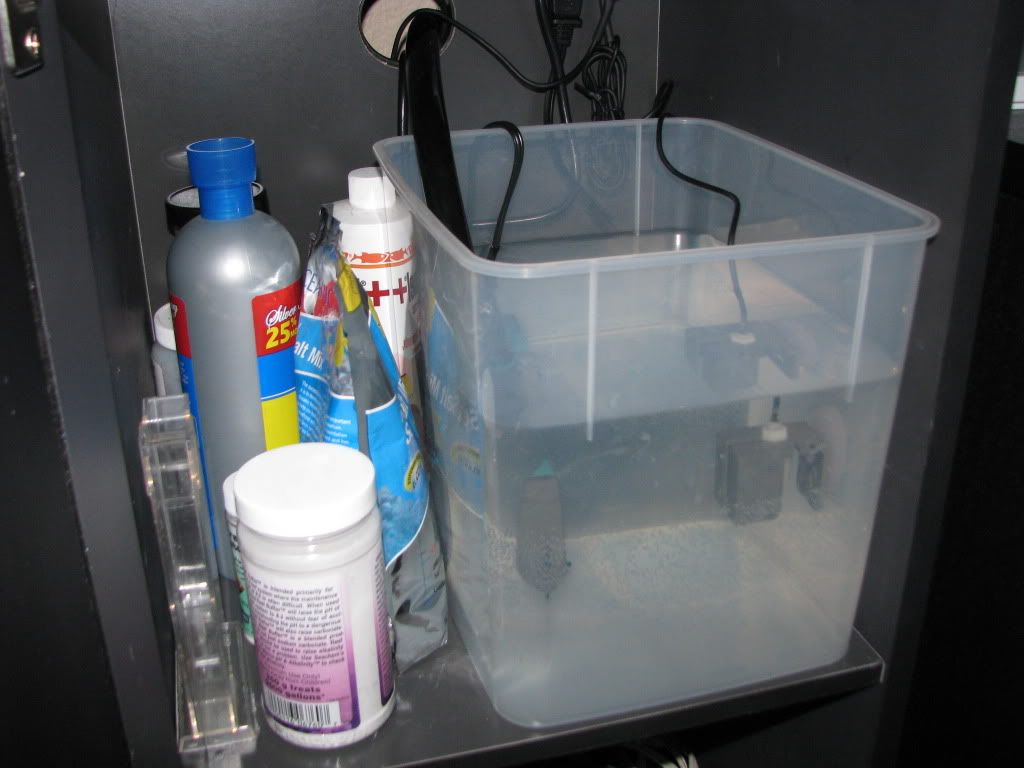 Blurry clowns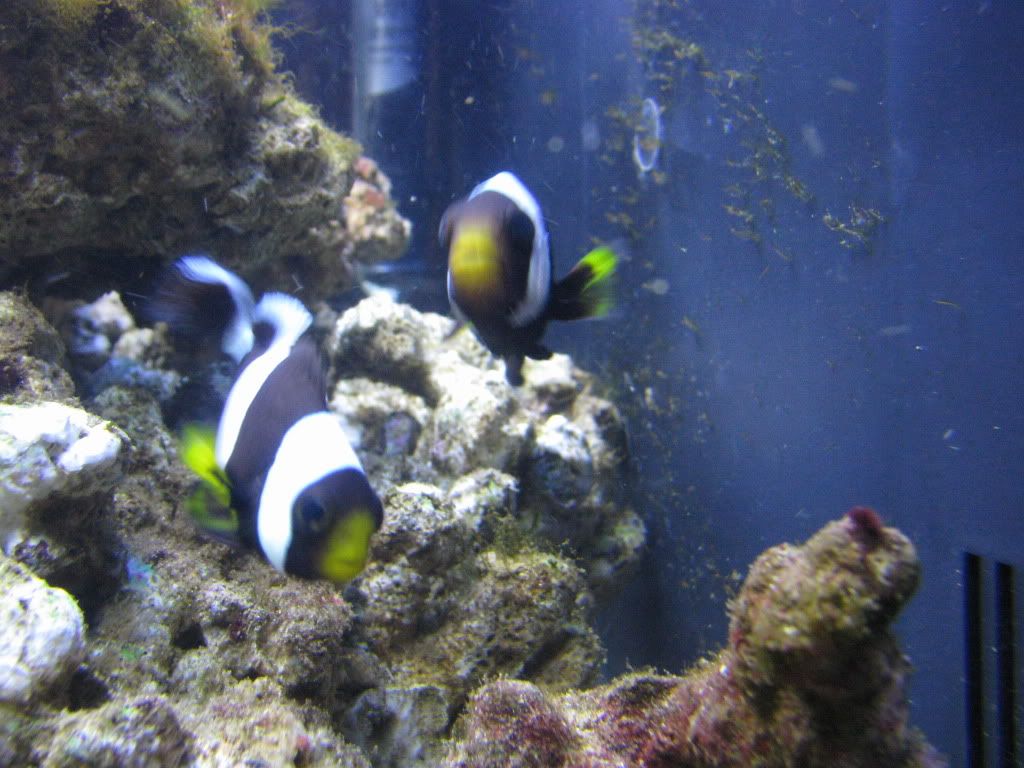 Since I couldn't get a picture of the clowns, I got a vid of them during feeding time. You can't tell in the vid but the female is on the right and a few inches back from the male. She's twice his size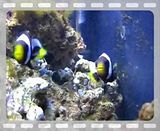 More to come!
edit: I don't actually use some of the chemicals in the stand, they were from my freshwater days, they just ended up there :/
Edited by Bamato, 13 April 2010 - 01:42 PM.