I tried posting this in the lighting forum, but i got no response, I want to see if anyone really has any comments or suggestions that could make this project better
Several Months Back I decided I wanted to upgrade to MH from the stock lighting in my 29g BioCube, so i decided to try a 70w, I ordered a $20 ebay bulb and a ballast, then i gutted my hood and slapped this sucker in there, it did not take me long to realize that this light had no where near enough power to keep much of anything in it... So I got 2 thinking, about a different lighting setup, I looked into the DIY LED setups, started pricing it out and it got too expensive to quick... and since I've been wanting to do alot of acro's, i knew that I was going to need more than 150w on my tank. One of my LFS who is one of the few that has a highly succesful acro tank that i believe is maybe a 190g bow front, they had 3x 400w mh on their tank and basically convinced me to go with a 250w for what i was looking into doing.
So, here is the parts list
250w XM 15k mogul bulb $65.00
250w IceCap Elec Ballast $130.00
Mogul Socket $8.00
2x 70mm pcu fans $16.00
12v 1.2amp adapter $12.00
4xBlue LED w mounts $10.00
Misc Hardware $35.00
36watt coralife actinic, $0.00 From Stock Hood
mount, and power supply
LED Driver $0.00 From Stock Hood
40"of 2"x1/2" allum channel $0.00 Freebie
40" of 3" allum louver $0.00 Freebie
20" 3.5"od allum pipe $0.00 Freebie
9' 5/8" solid allum rod $0.00 Freebie
20"x8.75" 1/8" allum sheet $0.00 Left Over From Other Projects
Glass ??????? Still need it cut
Powder Coat ??????? Not Ready Yet
Total Thus Far: $246.00
Picture Time
This is the top of the reflector to show how it was built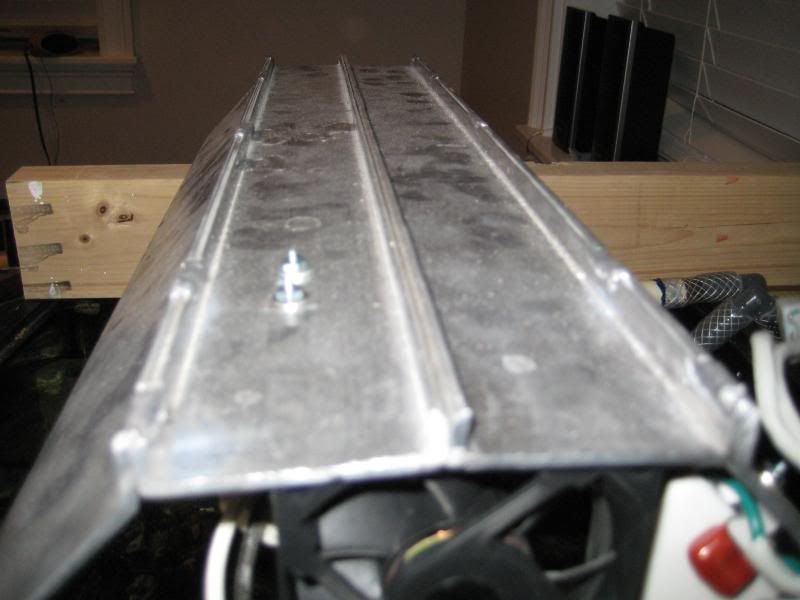 This is the inside of the reflector, i put almost 3.5hrs into polishing it to mirror finnish
Here is the material that I cut for the housing, its just waiting for work the following day so i can weld it together
And at the end of the "following day, I ground down the welds and made everything smooth, then mounted the reflector inside to test fit.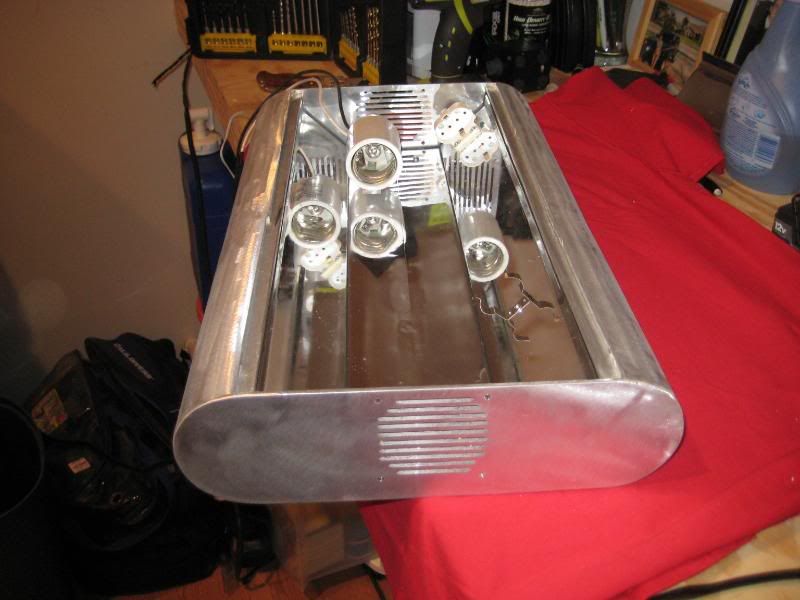 The top of the Housing after it was cleaned up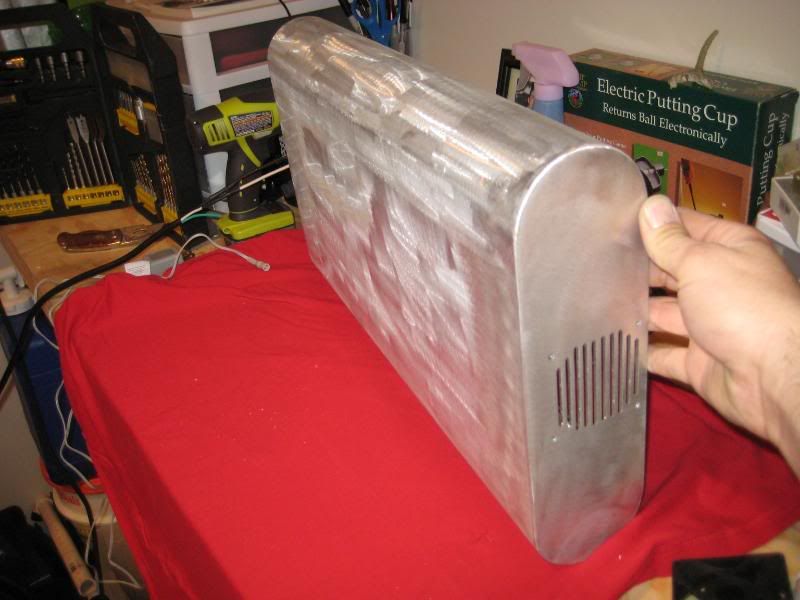 Light Housing On Tank Test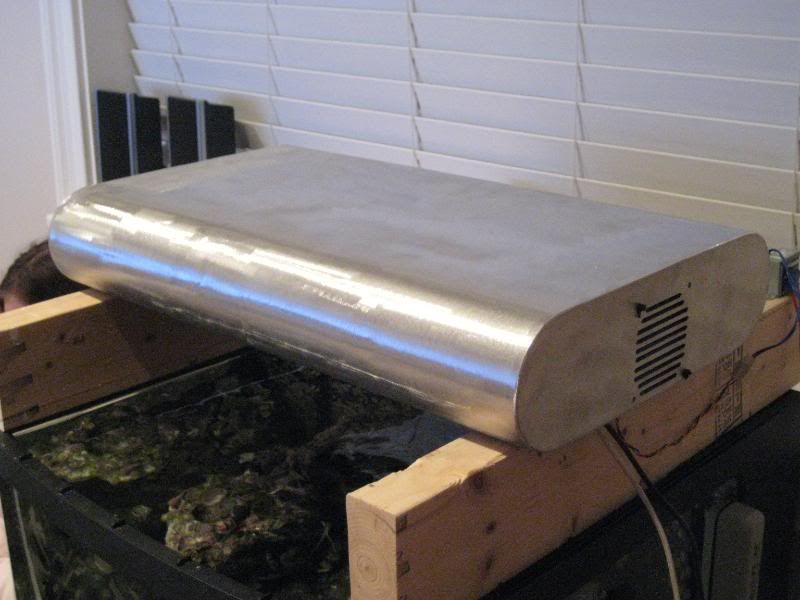 This shows the mount for one of the 2 light poles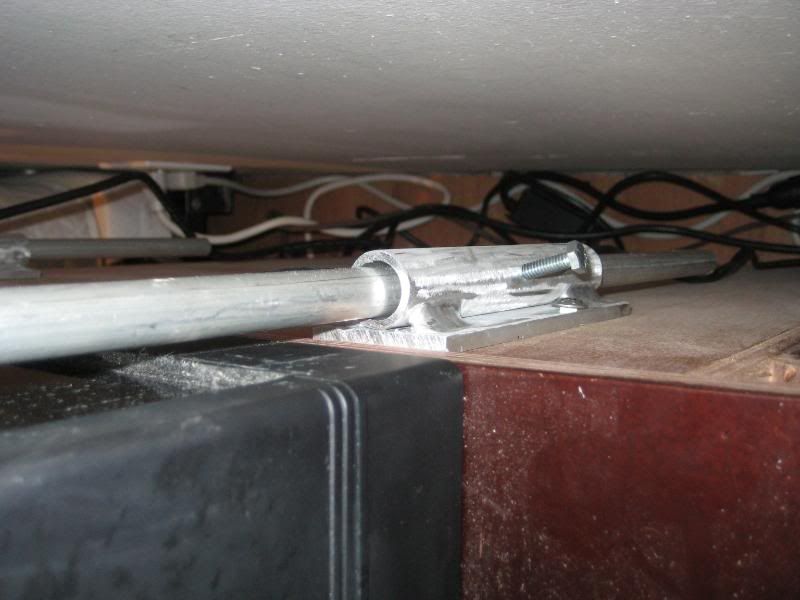 The 2 Light poles and Yes they are height adjustable (and my girlie in the background working on wedding favors)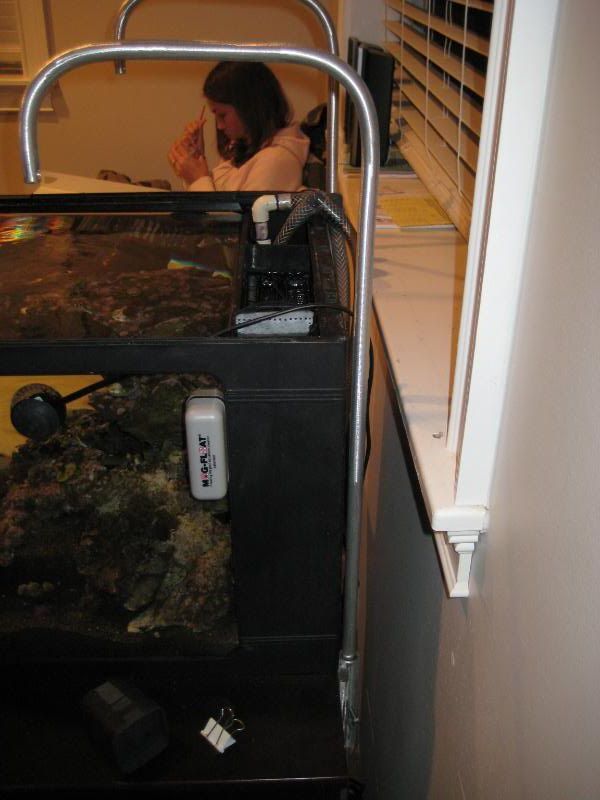 Yes, The light is hung
Another Angle
One from this morning with the light on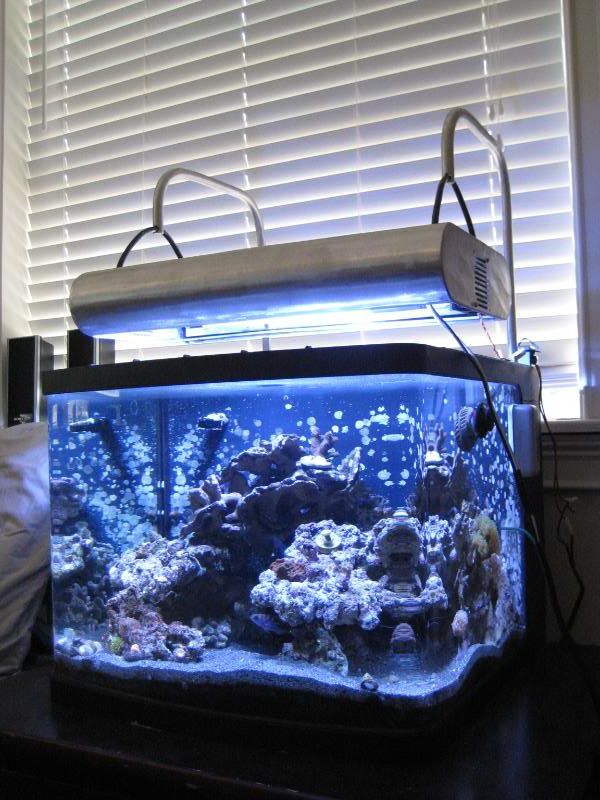 And a little Coral Shot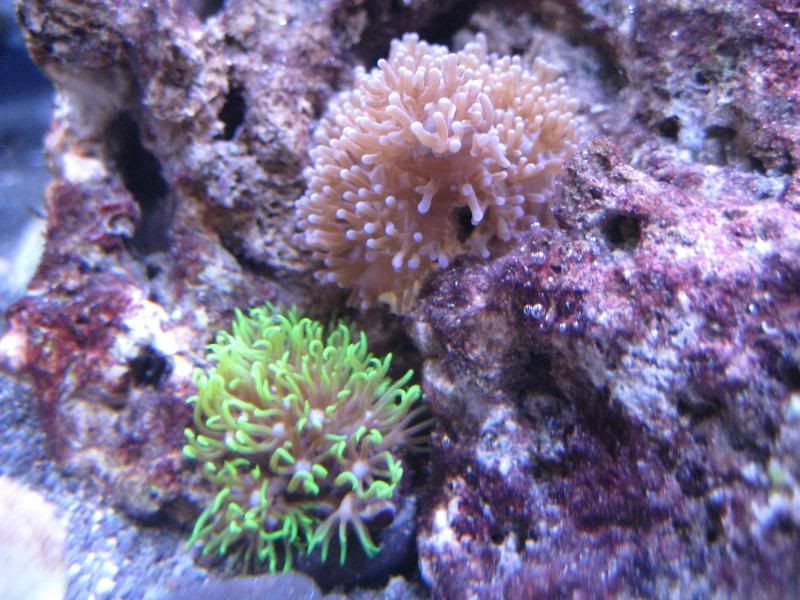 Things that at this point still need to be done,
Mount and wire LED moonlights
Mount Switch for LEDs
Wire Actinic (Dawn and Dusk Light Only)
Mount and wire Both Fans
Drill Holes for power supply wires
Get Glass for bottom cut and drilled
Take it all apart and get it powder coated flat black
I might Decided to lower the hoops closer to the housing, what do you guys think?
SO ANY THOUGHTS AND OR SUGGESTIONS
Edited by AllXJ96, 26 March 2009 - 01:42 PM.