This thread is intended to be a general guideline for different species and subspecies of corals ranging from SPS (Small Polyp Stony Coral), LPS (Long Polyp Stony Coral), Soft corals and Polyps.
Starting with my favorite the classification of SPS (Small Polyp Stony Coral).Small Polyp Stony Corals (SPS)
come in every color of the rainbow and can even be a compilation of colors with the polyps and flesh of the acropora being different colors.
SPS
need pristine water quality with absolutely no waste what so ever. In most circumstances acropora and all SPS corals will suffer from RTN (Rapid Tissue Necrosis, More on RTN and other coral diseases later on) if exposed to anything other than perfect water quality. SPS requires undetectable amounts of nitrite, nitrate and ammonia. If exposed to any trace amounts of these waste products of fish, over feeding and even from the slime coral emits on regular circumstances the SPS coral will most likely die.
The best and most sought after water quality for all species of coral is as followed.Ammonia 0Nitrate 0Nitrite 0P.H. 8.1 to 8.3Calcium 430 PPM to 480 PPMAlkalinity 8 to 12 DKHLighting for Small Polyp Stony Corals
Most people recommend metal halide lighting (Also commonly referred to as MH) but SPS can live under T5 (High output fluorescent) and PC (Power compact) The colors and growth rate will be greatly reduced but it is possible to keep SPS alive under T5 and PC. You will usually get greater results from metal halides for all SPS corals, however some SPS dominant tanks have multiple T5 tubes and can rival even the most stunning of metal halide displays but you will need more wattage of T5 and more light bulbs where as compared to metal halide you could simply have one or two 150 watt or 250 watt for a moderately sized display and for T5 you would need many tubes more wattage and a wallet that can afford all the extra electricity to get the same growth. The best possible lighting you could get for SPS corals would be T5 and metal halide lighting (Many aquarium companies sell lighting fixtures with both MH and T5 incorporated in the same unit).
Here is a compilation for acropora and all SPS color and growth under different kalvin ratings of metal halides.
Color Loss Of SPS Corals
Acropora (and SPS corals) lose color under less UV radiation, the nice colors that all reefers want is basically a sunscreen that protects the zooxanthellae algae that feed the coral through photosynthesis the "sunscreen" comes from mass amounts of UV radiation and light and this tells the zooxanthellae algae living within the corals tissue that it needs to protect itself from bleaching and then it becomes a bright color, When corals are exposed to a lesser amount of light the coral will become a more subdued color because the bright sunscreen is not necessary to protect the zooxanthellae algae from bleaching (or in some cases a different kalvin rating like 6K,10K,14K and 20K, usually the higher the kalvin rating the more colorful your SPS will be). For instance if an acropora is blue and purple in a tank lit by a 400 watt 20K metal halide light and then put in to a tank with a 150 watt 10K metal halide the color may be more subdued instantaneously or over time.
Some people don't like certain kalvin ratings for some reason, here is an over view of the metal halides kalvin rating for you.
6.5K
, Usually never used for reefs but more likely a refugium or a freshwater planted tank. 6.5K lights will have a horrible yellow look almost a urine yellow look to them. 6.5K is more of a rare bulb to come across since it is more used for high end fresh water planted tanks (And those are rarer than an SPS dominant tank is). But they usually can be found on planted tank websites.
10K
, Usually used for SPS reef tanks that want fast growth. 10K lights will help your SPS grow faster but the SPS colors will be subdued. 10K lights will have a yellow look to them but not as bad as 6.5K.
14K
, 14K MH bulbs usually are the choice for most reefers since they have a nice crisp white look to them and give ok color and ok growth to SPS but the growth will not be as good as 10K bulbs and the color the coral becomes will not be as good as 20K bulbs. 14K is basically just a mix of the 10K and 20K bulb and gives the "Undecided" reefers a good alternative to 20K or 10K.
These are some of my SPS that were under 70 watt 14K MH lighting.
20K
, 20K lights will give your corals flamboyant colors, but growth will be less than that of 10K and 14K lights. Most SPS dominant tank of the month tanks (TOTM) have 20K metal halide lighting (Not all but most) because of the nice colors it gives corals. Some people hate 20K MH bulbs because it is not a crisp white light that it produces but rather a blue light and because of the decreased growth it provides some people would never consider buying a 20K bulb, but they do not weigh in on what every reefer wants colorful corals. So it is in a way a trade off with the 20K you get beautifully colored corals but your corals will grow about 25% to 35% less than under 10K or 14K lights.
And just like SPS can turn from blue to brown a brown SPS can turn to basically any color variety (but usually green or if the acropora is an especially dark brown color it may become an awe inspiring blue color). The color change from brown to some bright color may or may not happen depending on the species and tank levels and just about every other factor that reef keeping details, But it is possible to change that $25 brown acropora colony in to an awesome show piece with the correct care and a little $25 gamble on if the coral will change colors or not.
Water Flow For SPS
SPS corals can live in relatively low water movement (fifteen times and hour) to very fast sand stirring water flow (126 times an hour) in my experience. SPS corals will grow differently depending on water flow. SPS corals (And all corals) breath only when there is water movement against their flesh, Basically the flesh of a coral is both its skin and its lung, With the water touching the corals flesh it also brings essential oxygen and calcium (and every other nutrient corals need) the coral thus absorbs the oxygen and all the nutrients required for the coral to survive, thrive and grow through water movement. All corals produce slime and waste from their flesh, this slime and waist must be taken away from the coral with water movement or the coral could suffocate in its own slime and waist.
The most important thing for a coral is water flow, corals can survive in low light (Yes even SPS corals) but no coral can survive without water flow. Growth Pattern And Bone Structure Of SPS Corals Kept In High Water Flow TanksBranching acropora
corals in high water flow tanks (Over 50 times turnover rate and hour)
Acropora will grow more in clustered colonies when kept in high water flow, they will have thicker and stump like branches. The bones of acropora will also be denser and stronger when kept in high flow rates, since the acropora coral has to add on more calcium to its skeleton so it will not break in high flow rates or surges in water flow caused from wave makers or simply from the water pumps and filters turning on. It will be extremely hard to break an acropora skeleton when it is kept in high flow rates simply because the bone structure is so strong that even fragging bone cutters will have a hard time clipping the corals branches.
Montipora Capricornis
Coral In High Water Flow Tanks
Montipora capricornis grows in a plate like manner and will most likely form multiple plates or tiers when kept in high flow tanks. The bones of montipora capricornis will be stronger but will still be brittle even when kept in high flow tanks simply because even a thick plate of montipora capricornis will be very thin (Where as with branching form of coral like acropora and montipora digitata the branches can become thicker and thus stronger). Even an arm brushing against this species could damage it (If it is with enough force of course), However the plates of montipora capricornis will be thicker than if they were kept in low flow tanks.
Encrusting SPS
Coral In High Water Flow Tanks
Encrusting SPS species will still encrust the same in low flow and in high flow tanks. The only difference is the growth may be less in high flow tanks because they must be denser but basically all encrusting species of coral rely on the rock they grow on for structural support.
Montipora Digitata
Coral In High Water Flow Tanks
Montipora Digitata grows in branches (Similar to branching acropora in shape), They will grow with thicker branches and more dense colony structure when kept in high flow tanks. But again it will take longer to grow since the branches must be of a denser bone structure.
Pocillopora
Coral In High Water Flow Tanks
Pocillopora is my favorite SPS coral simply because it is one of the heartiest coral I have kept (When compared to other SPS corals that is). Some species of pocillopora will grow in very tight clusters with small branches and others will grow to have club like branches that are well over two inches thick and the only space in between the club branches will be small crevices that let water flow in to the coral colony, Pocillopora corals with this bone structure would have to be kept in very high flow tanks just because of the fact that the inner parts of the coral would die from lack of water movement. Pocillopora colonies that have the club like branches would be the hardest to break or fragment simply because of how dense a coral skeleton that is more than an inch in diameter would be.
Growth Pattern And Bone Structure Of SPS Corals Kept In Low Water Flow TanksBranching Acropora
corals in low water flow tanks (Under 50 times turnover rate and hour)
Branching forms of acropora when kept in low water flow tanks will have very thin branches, The colony will be thin rather than lush. The coral will grow outward so more water flow can get throughout the colony and give essential oxygen and everything else the coral needs, It will also allow the coral's waist to be removed easier than if it was a lush colony. The good thing about branching corals kept in low flow tanks is that the coral will look more like a colony since it will take less time to grow because the branches are thinner and there are far fewer branches thus giving a more mature look to your tank in half the time. But the bone density of the coral will be weak and an arm brushing against the coral could break off multiple branches.
Montipora Capricornis
Coral In Low Water Flow Tanks
Plating montipora capricornis coral when kept in low flow tanks are more likely to grow in a single plate or sheet so the multiple tiers of the coral do not obstruct water flow. The bone density of the coral will be much weaker and far easier to break.
Encrusting SPS
Coral In Low Water Flow Tanks
As I previously stated encrusting SPS coral will grow almost identically in low or high water flow rates the only difference is bone density but that does not matter since the encrusting coral relies on the rock it is attached to for structural support, But if kept in low flow rates encrusting SPS coral will grow faster considering that the bone density is weaker and it does not have to take the time to build and reinforce and can simply rely on growing out.
Montipora Digitata
Coral In Low Water Flow Tanks
Montipora digitata corals will have extremely thin braches when kept in low water flow tanks so the lower water flow can support the colony. The branches will grow sparsely and be very brittle because it will not require a lot of bone density since it will not have to deal with the high flow rates. Again it will appear to grow faster because the branches are thinner and more sparse giving your tank a mature look in half the time.
Pocillopora
Coral In Low Water Flow Tanks
Pocilopora corals when kept in low flow will have again thinner branches and a weaker bone density. Rather than grow in clumps the coral will grow outward and look much more beautiful (In my opinion) than in a clump of tangled branches, it will also be easier to frag seeing as the branches will be longer giving a larger frag and an easier area to cut the fragment from.
So when it comes to high or low flow for your SPS you will have to make the choice on what you want your corals to look like and how you want them to grow.
Aquaculture, Breeding, Propagating, Fragging And Growing Your Own SPS Corals
SPS coral are the easiest coral to propagate or frag in my opinion simply because of how easy it is to attach an SPS frag to a rock or frag plug (Some other species of coral are very difficult to attach to anything and who wants a $50 coral frag lost in the tank?) A simply frag tank (Or tanks) will keep all your trimmed coral frag out of your display (My two 12 gallon aquapod frag tanks pictured below)
Fragging Branching SPS Corals.
To frag a branching form of SPS you simply need a pair of bone cutters or a pair of pliers to break off a branch or a small portion of a branch and attach it to a frag plug or to a piece of live rock using aquarium safe epoxy or a cyanoacrylate gel super glue (If you are not sure of the brand of glue to use simply buy it from an aquarium company that makes it especially for fragging corals).
Fragging Encrusting SPS Corals
To frag encrusting SPS coral you will need a chisel, a dremel or a tile saw to cut up the rock that the encrusting SPS in attached to, Just be prepared to have many small frags if you are not experienced with a dremel, chisel or tile saw. You cannot simply peel off the encrusting SPS from the rock (As you could with encrusting soft corals) because when the SPS coral encrusts on to the rock it embeds its calcium skeleton in all the little holes and crevices. When you do frag the encrusting SPS you simply use aquarium safe epoxy or a cyanoacrylate gel super glue and attach the coral to a frag plug or a piece of live rock.
Fragging Plating SPS corals
Fragging plating SPS corals is both easy and tricky at the same time, if you simply snap a small portion of a rounded plate then it will ether break off the whole plate or leave a straight line across where you broke the frag off of, that straight line will be there for a long time and will be behind the growth of the rest of the plated coral. The best methods of fragging a plating coral is to ether take the whole plate off or cut a complete ring around the coral so it will all still be an even shape with no straight lines that will take away from the beauty of your coral colony. As for attaching your new plated coral fragments simply use aquarium safe epoxy or cyanoacrylate gel super glue and attach the coral to a frag plug or a piece of live rock.
SPS DiseaseSPS And RTN
The most common death of an SPS coral is RTN (Rapid tissue necrosis). RTN is when the flesh of the coral falls off and leaves a completely bare skeleton. Usually from poor water quality or if the coral was kept in sub-par conditions when in shipping or transit from the fish store or wholesaler. Another thing that can cause RTN is iodine dips. I had twelve acropora frags that I bought and I dipped six of them in iodine and six were put straight in to the tank (After proper acclimation of course), all the frags that had the iodine dip Suffered from RTN while the other six were fine. A good solution if you do not want to add an unwanted pest to the aquarium is to use a quarantine tank.
Red Bugs
Red bugs are tiny little red specs to the naked eye but they are quite deadly to acropora corals, they stay on the coral and eat its flesh. Red bugs can cause poor polyp extension and death to the acropora if these little pests are allowed to stay on the coral or in the tank. There are many different medications for the treatment of red bugs but you will usually have to lightly brush the coral with a soft bristle tooth brush before and after you use the medications for the red bug treatment to assure that the red bug eggs are cleaned off since the medications may not soak in to the egg sack. Again a better solution to medications is to have a quarantine tank and observe the coral closely for a few days to make sure there are no red bugs.
Montipora Eating Nudibranch
A montipora eating nudibranch can be very difficult to get rid of, usually you will have to nightly pick the little slugs off of your coral and use a soft bristle toothbrush to brush the eggs away. Some medications could be used but you may be better off picking them off nightly for however long it takes to make sure there are none left. Make sure to look under the colony because the nudibranch may be hiding under the coral. A quarantine tank would give you a few days to look at the coral to see if there are any of these little pets.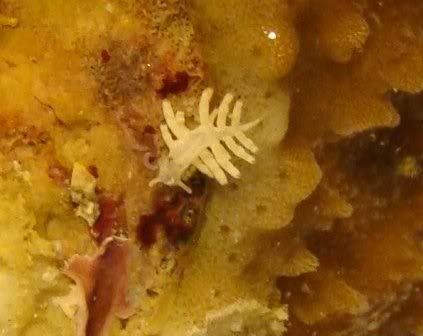 Soft Corals
Soft corals are among the easiest of coral to keep (Even easier to keep than zoanthids or polyps). Soft corals are commonly recommended to newer reef keepers simply because these corals are hearty, but soft corals are enjoyed by even the most knowledgeable of reef keepers. Usually soft corals have a tan, brown or green color, flamboyantly colored soft corals may be dyed with food coloring so it is more appealing to hobbyists (I should mention that some finger leather corals are naturally a very beautiful lime green color). Not all soft coral are photosynthetic, some are beautifully colored and so beautiful you would want to have a tank dedicated to them but they require the care of an expert aquarist and public aquariums even have a hard time taking care of the, I am of course talking about the carnation tree coral.
Example of a dyed soft coral
Soft corals can live and thrive in less than desirable water conditions which is why they are recommended to beginners in this hobby.
Obviously pristine water conditions are wanted for soft corals but soft corals can live in tanks with high nitrites and nitrates without problems.
Water Flow For Soft Corals
Lower water flows are desirable for soft corals (Probably the highest I would recommend is a thirty five times turnover rate to fifty times turnover rate). The reason soft corals prefer lower water flow is because they do not have a skeleton like SPS corals and LPS corals do; they will be whipped around by the current and may not open or may die from too much water flow. Again how a coral breathes is through its flesh and from the constant water flow around the coral.
Growth patterns for soft corals will be the same in higher water flows as it is in lower water flows.
Lighting For Soft Corals
Soft coral can live under any lighting ranging from T8 fluorescent (
Some soft corals cannot live under T8 so you should read up on the specific coral you intend to keep
), T5 fluorescent, PC (Power Compact) and Metal halide. Soft corals will grow at a faster pace under higher lighting but they may prefer say T5 over metal halides simply because in some cases metal halides give too much light to the soft coral and inhibit growth. A good way to keep soft corals under MH is to acclimate the coral to the higher light with a lower photo period or to place the soft coral in a spot where they do not get direct metal halide lighting.
The best type of lighting for soft corals would be a mixture of T5 and metal halides but only when the soft corals are ether acclimated to direct metal halide exposure or when the soft coral is kept in a place in the tank where it does not get direct light from a metal halide.
Kenya Tree Corals (Cladiella sp.)
Kenya tree corals (Also known as colt corals) are extremely easy to keep and grow like a weed. As with all soft corals pristine water quality is not required for them to both live and thrive. Some people have said that Kenya tree corals can and will take over your tank, with me having kept one I would agree. I kept mine in a 55 gallon tank, I started with a five inch frag of Kenya tree coral and within a year the coral was twenty two inches tall by twenty four inches long and took over a whole half of my fifty five gallon tank. This is not a bad thing in larger tanks but in small tanks it will take over and you will soon have a species specific tank with a beautiful coral. One way to keep your Kenya tree coral in a manageable size is to frag the coral or trim it. You can easily attached the little trimmed frags to a frag plug or to a piece of live rock rubble and trade the frags in to your local fish store or sell them online and make a few dollars per frag.
Xenia (Xenia elongate and Xenia sp.)
Xenia is a very attractive coral that literally can turn from one stalk to five or ten in a matter of a few weeks/a month or two. Some xenia's polyps can open and close in a pulsing mode and it really gives this coral and your tank a unique look. Placement for this coral is key, since they grow at such a rapid pace you must provide room for them to grow. An xenia will easily over grow other neighboring corals. This is by far the easiest soft coral to frag simply because they grow so rapidly it will not take more than a week or two for the coral to attach to a frag plug or live rock rubble, usually a line of fishing wire wrapped around the frag holding it against whatever you choose to attach it to will be good enough and the coral will attach. One of the only problem with this coral is they are known to have a die out period where one day the colony of xenia is thriving and the next they are shriveled and dead, Some people think this is caused by the tanks water being to hot others think it is because the xenia has used up all they could from the water, But in any case some xenia die for no apparent reason.
Toad Stool Leather Corals (Sarcophyton sp.)
A very beautiful coral that's colors range from yellow, brown and green (The most common being brown). The growth pattern of this coral is a large mushroom shape with a beautiful bell for the top of the coral. In higher lighting the polyps of this coral may change colors to green but it may happen or it may not the only way to know for sure if your coral will have green polyps is to buy one that already has colored up (But this will usually double the corals price). Toad stool leather corals can emit toxins that prohibit the growth of stony corals but this can be taken care of with the use of carbon in the tanks filters.
Cabbage Leather Corals (Sinularia dura)
Cabbage leather corals grow to look like cabbage (As the name suggests), this type of coral grows in mats on the rock work and somewhat encrusts the live rock. The color of cabbage leather corals can be ether brown or green. This is a very hearty coral and is easily fragged using scissors and attached to a frag plug or live rock rubble with ether a rubber band or a fragging super glue.
Spaghetti Finger Leather Coral (Sinularia flexibis)
This is a common soft coral in the aquarium trade, This corals colors can be white, brown, green and rare colors forms include a lime green that if you did not know better you would assume it was fake. This species can emit toxins that inhibit hard corals growth but this can easily be combated with the use of carbon. This species of coral grows to look somewhat like a tree when it grows large with multiple branches that sway in the water flow.
Hand Coral (Lobophytum sp.)
Hand coral again are very common in the aquarium trade and grow to look like, you guessed it, a hand. This coral does not sway in the water as much as some other soft corals and has smooth skin with few polyps (Usually the polyps are only at the tips of its branches). This coral is extremely easy to care for and is usually relatively cheap compared to other corals.
Carnation Tree Corals (Dendronephthya sp.)
Carnation tree corals are beautiful corals that can be red, orange, yellow, and purple in color. Usually sporting garish colors and is tempting for any reef keeper. The problem with this coral is they do not contain the algae zooxanthellae and thus must be fed plankton a few times a day just to be able to live (Not thrive) but feeding your tank multiple times a day with plankton will crash your tank without the experience of an expert aquarist. Not only do these corals need fed they also need water movement that simulates that exact area of the ocean they come from. And for this coral to properly open it may need to be upside down with massive water flow. Carnation tree corals are surely beautiful but are better left in the ocean or in the care of an expert aquarist. This is no coral for a beginner.
Zoanthids (Zoanthus sp.) And Palythoa (Protopalythoa sp.) Corals
Zoanthids and Palythoa can come in every color and every color combination (I have even seen some that are black and white in color). Some colors of zoanthids or various polyps can be very expensive and are only sold by the polyp not frag or colony. I have even seen some single polyps of zoanthids going for three hundred dollars! But not all zoanthids are expensive; you can usually get a nice size colony of garishly colored zoanthids or polyps for less than fifty dollars depending on color and size of the colony.
[/b]Palythoa (Protopalythoa sp.)[/b]
Palythoa corals are commonly called 'button polyps" and can be very bright colors or very dark brown/black colors, It just depends on the coral and the lighting you keep the coral under. They grow like weeds and new polyps will pot up around the tank so make sure you like the species you buy because you may end up with it in a few different locations around your tank. These can be kept under low lighting (T5 and PC) to higher lighting like MH, Most brown corals from this species will turn green under direct MH lighting.
Common button polyp under direct 70 watt MH lighting
A bud from the exact coral above under T5 (The larger polyped coral)
So as you see this is a good example of the drastic color change polyps can undergo with different lighting for you aquarium.
Lighting For Zoanthids And Polyps
Under higher amounts of lighting zoanthids and polyps will have better colors while under lower lights the colors will be subdued. I once had a colony of button polyps that I kept directly under metal halide lighting and it was lime green, I later switch lighting to T5 and the coral changed to brown with green skirts within days (Pictures above). So zoanthids and palythoas color is highly dependent on the lighting they are kept under.
Be aware if you buy zoanthids or polyps lit with a better light or with a higher wattage of light than you have (Say you have T5 and the fish store has metal halides) the colors of the polyps or zoanthids may change drastically.
The best lighting for palythoa and zoanthids is metal halides and T5 but they can live under anything from T5, PC (Power Compact) or metal halides.
Scroll down for LPS coral guide.
Edited by AcroporaLokani, 03 January 2009 - 10:19 PM.