Most recent FTS, 3/22/09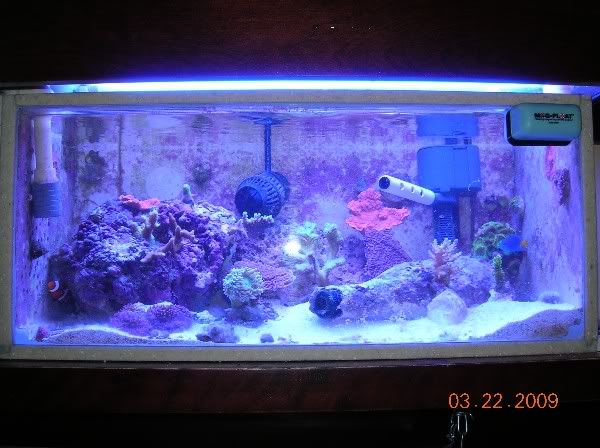 Original post below
_________________________________________________________________________
Alright yall. You saw me build this thing, and I set her up a few weeks ago. Before putting anything in it, I gave it several days of tests. No leaks. Good waterflow.
Well here she is. Almost done. I am building a canopy to go over it that will have lots of storage and hide all the lights. I may even put an overhead fuge in it (a 10g).
For the info on construction, here's the thread for that.
http://www.nano-reef...howtopic=171042
Here's some pics. Hope you like. It's basically a 10-gallon tank (the display side).
The tank set up with lights on. I'm not 100% happy with the rockwork (nor the mess on the shelf below which is supposed to hold books). Also note that the Nova Extreme is sitting on TEMPORARY blocks (the legs won't fit this tank), I know it looks precarious. I'm hoping my cat will jump on it and knock it into the tank and fall in with it
YES THAT IS A BEER BOTTLE you see on the bottom right. Now, I am Baptist living on Seminary campus (who, btw, grew up with an alcoholic father and I'd intentionally thirst to death in a desert full of Budweiser). In other words, when this beer bottle showed up at the LFS, I HAD TO BUY IT. It was sent to a local reefer by a diver friend (I forget where they were diving) and they traded it in. It's covered with corraline algae and spaghetti worms. Very cool. I'm hoping to put a shrimp goby in it soon.
.
EDIT: closeups of the beer bottle.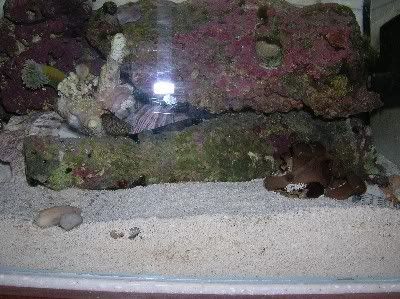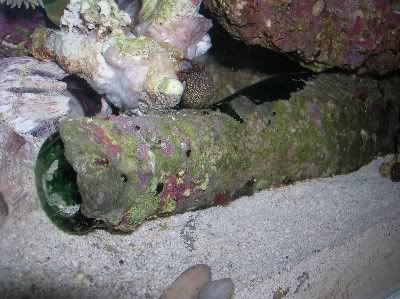 Top view, with descriptions. Thanks to FraggleReef for the chaeto!!!
Now, the tank's been set up for two weeks, and you are likely wondering why I have so many coral and a few fish (gramma and ocellaris). That's because the rock and half the water came from an established tank, was kept in a holding tank (with the Nova lighting it) for nearly a month and it never showed any nitrogen cycle. Trust me, all is well with the water parameters.
One variety of GSP, this one is a long-tentacled variety that is green as heck. In this pic the tentacles aren't fully extended, they're about 1-1.25" long when fully extended.
A different GSP, not quite as green, but with a more pronounced star shape. Small cabbage leather hitchhiker in the background. Looks like a wad of chewgum stuck onto the LR.
My personal favorite, a nice green-ish Duncan coral head. I feed it once in a while with table shrimp. One very happy coral.
Pumping Xenia. The stuff will not fully extend, and I suspect it's because of the light level, it's pretty intense in there with 96W of T5HO. However, it's already started to spread, there are a few polyps pulling away from the base.
A very odd pic of a very nice daisy polyp colony. I took the pic at an angle and apparently the acrylic bent the light in the image. I don't have this problem with glass, I was surprised to see it with acrylic.
These have a very bright minty-green center though it doesn't quite show up as well in the pic. These are already beginning to grow new polyps.
Paly colony. There were bright green with brown rims when I got them. Now they are brown with a green hue in the middle. Oh well, still purdy.
There's some pest algae in the pics, but this is a new tank and it's nothing out of the ordinary. I had some dinoflagellates, but keeping pH up and keeping photoperiod shorter (5 hours) has nearly eliminated them.
Here is the equipment list.
Nova Extreme 4X24. I didn't like the lights it had so I changed 3 of them. 1 blue 460nm, 1 actinic 420nm, 1 12,000K UVI, and one 14,000K UVI. I love the look, much more pleasing to the eye. There's a few shrooms in the tank that now fully open (not in any of the pics) that stayed bunched up under the previous lights (2 10K and 2 460nm blue)
MJ1200--- circulation (deflected off of a large LR to muffle it a bit).
Powersweep something-or-other that stopped powersweeping, so it drives the sump/filter. About 150gph.
Robbed the powerhead off the crappy Nano-Fission skimmer and now using it for circulation. Good pump.
ViaAqua titanium tube 75W
26W PC/incandescent base growing the chaeto.
Kalk doser-- homemade using a 1L plastic jar, some tubing, and an airline valve. Works like a charm.
Well anyhow, hope you like!
EDIT: I don't know the difference between dessert and desert. doh!
Edited by redfishsc, 22 March 2009 - 03:53 PM.