Eversince I have been working at a pet store i have been wanting to setup a regular Fish Only saltwater tank. But instead i have ventured into coral reefs. So now I have started up a mini reef tank, a 15gal high tank.
I had setted it up 5 weeks ago for the water to go through a cycle, which is needed.
last thurdays i did my first water test. Here are he results.
PH level 8.4 (which is decent)
Ammonia 0
nitrite 0
Nitrate 0
So now i am able to place corals and fish in there, but going to wait lilbit longer cuz i am going to add more cured Live Rock in the tank. By adding more cure LR, that could through my tank into another mini water cycle. So i will have o see what happens by testing the water a week later after adding more LR.
All i have in there right now are 2 Blue Leg Hermit Crabs, 5 astrea snails ( I need more, willing geting some on my next payday), 2 peppermint shrimps and 1 sandsifting starfish ( was a hitchicker from the live rock i purchase from a Saltwater supply store).
I had sold a few of my T's, almost all of my scorpions and all of my reptiles (which i didn't have a lot of repts). to purchase the lighting, heater, filter, Maxijet 400 wave maker, liverock, Reef marine salt and live sand in order to get this tank going. I'm not out of the game of keeping arachnids, just slows down some to learn more of SW reef tanks. Infact, still breeding tarantuls, i have breed my Grammastola aureostraita (Golden Chaco Knee) last night.
Here are a few pix, will be adding more as I add more things , such as fish and corals.
my 15gal tank with both lights, 15w aqus-glo and 15w arctinic
NOTE* this is how my tanks looks for now. Going to add more live rock.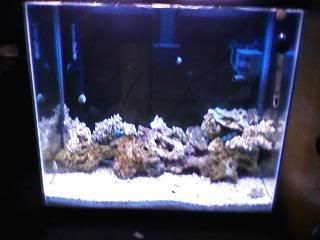 here is just the arctinic, thought it was pretty cool looking
One of my peppermint shrimp, the bigger one. The smaller one wouldn't come out of one of the cave like rocks.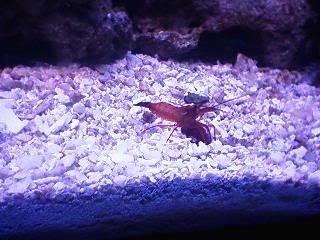 Sorry for the crappy pix, was taken from my wife's cell cam.
Aslo, working on a 2.5 gal picto for my daughter.
Thanks
Mark
Edited by redkneecoral, 14 September 2008 - 10:26 PM.