Mantis Shrimp
Unlike many other critters that we purchase for our reef tanks, mantis shrimp are often added to reef tanks and quickly determined to be pests that are speared or flushed down the toilet for no reason at all. Because of this, I decided to dedicate my 10,000th post to help educate others about these "unnecessary evils."
What is a mantis shrimp?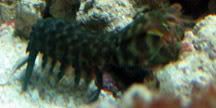 This is a very commonly asked question. The name mantis shrimp was given to these creatures simply as a means of trying to describe what they look like, a cross between a Preying Mantis and a Shrimp. However, the scientific community classifies these saltwater crustaceans as Stomatopods. They are not shrimp or mantids, despite these common labels. Within the genus of Stomatopods, there are countless species ranging in sizes up even 17 inches in length. Within this vast group, there are two main subcategories simply called "smashers" and "spearers." These names are derived from the apendages on the mantis. They either have a club-like "smasher" serrated "spearer" raptorial apendage. The differences between the two can be seen below:
"Smasher" Raptorial Apendage:
------------------------
"Spearer" Raptorial Apendage:
------------
Where do mantis shrimp make their burrows?
The smasher will generally target crabs, shrimp, and snails whilst the spearer is designed to prey on fish and shrimp. These differences are further extended in the types of burrows made by the mantis. smashers will generally burrow through rocks to form their burrows and extended tunneling networks. Obviously, this rock tunneling requires quite a bit of force; in fact, some smasher species can generate a force equivalent to a twenty-two caliber gun shooting a bullet. Spearers will commonly dig their own U-shaped tunnel in the sandbed. Many recommend that it is best to give the mantis somewhere to hide in the tank so that it is not completely exposed when introduced. Smasher types generally seem to find places in the live rock to hide in; however, creating some form of a tunnel for either smasher or spearer types is generally a good plan to ease the acclimation process.
What species of mantis shrimp do I have?
There are many different species of mantis shrimp that commonly appear in the aquarium trade. Many of these are found inside live rock, which means that they are generally of the smasher variety; however, some are specifically imported and made available for sale. Dr. Roy Caldwell, an expert on stomatopods, has created an online database for identifying mantis shrimp as well as basic characteristics of that species. This is highly recommended for any potential mantis owner. The site can be found
here
.
Do mantis shrimp really break the glass of aquariums?
It is a common myth that a mantis will break the glass of an aquarium.
This is extremely rare and generally has only been documented in cases where a larger mantis is being kept in a tank that is too small for it. Because the tank is too small it can draw the mantis towards the glass, which is thinner due to the small tank size, and, if provoked, the mantis could strike and potentially break through. In other cases, large mantids have burrowed through the an insufficiently deep sandbed and broke the bottom pane of glass. As a general rule of thumb, plan your tank accordingly to your species of mantis and you will be fine. Don't keep large mantis shrimp in extremely small tanks. Give them plenty of room and properly care for them. Both you and your mantis will be happier that way.
Do I have a mantis shrimp?
Yes, it is completely possible that a mantis shrimp may have come as a hitchhiker on your live rock. If you obtained rock from tampabaysaltwater or sealifeinc among other Florida rock destributors, the odds of this happening are a bit higher. Generally, the best way to find out if a mantis is in your tank is too listen for any pops or snaps coming from inside your tank. They are quite loud, but keep in mind that various species of Pistol Shrimp also make similar noises. Other signs of a possible mantis could include broken snail and hermit snails, rearranged rubble, and missing fish or shrimp. Keep in mind that while a mantis may be capable of killing fish, they generally tend to stick to slower moving prey. If you notice any of these signs, it is considered a good idea to watch the tank at night with a flashlight in hand in an attempt to spot the mantis.
Amphipods, Copepods, and Isopods are not mantis shrimp!
A common question on the aquarium boards and forums is whether or not someone has a mantis because they see small, mantis-like creatures scurrying around their tanks. Unfortunately, these are a common part of the cycle so many beginning reefers will see these new creatures and think they have a mantis shrimp. Below are common examples of these falsely proclaimed mantis shrimp:
Amphipod:
--------------------------------
Copepod:
--
Both amphipods and copepods are completely harmless in a reef tank environment. While they may be seen as pests, their thriving populations often represent a healthy aquarium. They eat small particulates and help break down some wastes while in turn providing food for many fish and corals.
In contrast to these small and relatively harmless amphipods and copepods, are isopods- parasitic invertebrates that will latch onto your fish and eventually kill them. These are indeed pests and, while detrimental to a reef tank, should not be confused with mantis shrimp.
Isopod attached to a fish:
I have a mantis in my tank! / What should I do with it?
This is a situation that many aquarists find themselves in at some point in time. While these creatures do make interesting and hardy pets, countless find them to be a nuisance due to their general hindrances in creating a full on reef tank. Sadly, those aquarists who decide that they do not wish to keep them often feed them to trigger fish, kill them with a skewer, or flush them down a toilet. Instead of simply killing the animal, the responsible aquarist can simply post on a forum such as this that he has a mantis shrimp. Many people are willing to keep and care for these creatures and will even pay you for this "nuisance."
How do I capture a "pest" mantis shrimp?
Note that there are many violent methods of capturing a mantis shrimp- I will only list the more humane ones. One method is to simply bait out the mantis with shrimp on a skewer or similar and then catch the mantis with a net as it attempts to grab the shrimp. This could be pretty unreliable-mantids are extremely quick and intelligent. Homemade traps consisting of an inverted cone into a bottle with a piece of bait inside are another option; however, mantis shrimp are incredibly smart and can work their way out of such traps. Another option is to quickly submerge a rock into carbonated water- this reportedly causes the mantis to quickly escape.
The best and most universal method is to determine which rock the mantis is living in, remove it, and place it into a bucket of saltwater. After a few days, bait the mantis out of the rock and then remove the rock.
The mantis is not injured in any way and can then be sent to the fellow awaiting reefer where it can be given a good home.
How do I care for a stomatopod?
Acclimation:
While mantids are extremely hardy, it is always preferred that they, like all reef invertebrates, undergo an extended acclimation period. The drip method works well to make sure that they are slowly adjusted to the aquarium and thus to limit the shock of the mantis being introduced to a new system.
Aquarium Setup:
In most cases, mantids are very hardy and thus do not require much in the way of equipment. A properly sized tank must first be selected in order to compensate for the needs of the mantis you wish to house. Then, a simple heater, powerhead, or possible powerfilter can be used in conjunction with some sand and rock. It is basically a setup that is nearly identical to that of a FOWLR tank so you can also get away with cheaper lighting. If you so wish, you can also keep a mantis in a reef tank although the mantis may do some rearranging a pick of the clean up crew. I have found that Cerith snails are generally able to remain undetected longer than other snails so they do make for better cleaners. Some larger snails are also able to hold up against smaller smashers so this is also an option. Tank mates are generally best limited to quickly moving fish that can avoid predation. Damsels are a good choice due to their activity levels. Their overall low cost is also appealing in a mantis-dominated tank because there are never any guarantees that a mantis will attack the fish. Some mantis species are more aggressive than others and even some individual mantids are more aggressive. In terms of corals, it is best to glue these down to the main rocks. Mantids do not eat corals, but they will occasionally take the coral rubble and use it in making their burrows so keep that in mind when caring for mantids in a reef environment.
Feeding:
Feeding is generally a simple procedure. For smasher species, it is a good idea to recycle a cleanup crew through the tank to provide excercise and a natural food source. Frozen shrimp or scallops can be purchased at the local grocery store and soaked in a vitamin addititive such as Selcone or Zoecon. This can be placed on the end of a bamboo skewer and lowered into the tank. Most mantids will hapily take this food and be fine for a few days. Just for reference, a 1/4"-ish cube of shrimp is about the right amount for a ~3" mantis. Spearers will often take this food source as well and appreciate live feeder shrimp for their hunting pleasure.
Here's a quick video of a mantis, G. graphurus, "catching" a snail.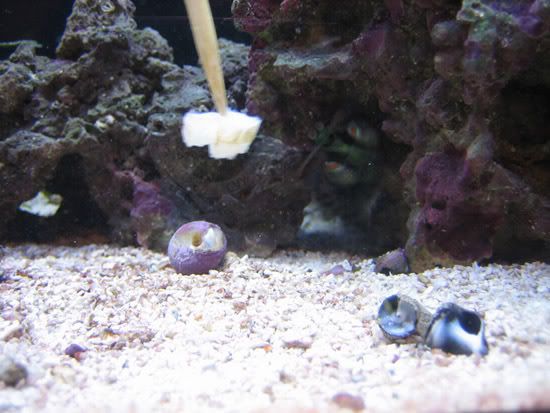 Molting:
Because mantis shrimp are protected by an exoskeleton, they must molt their shell in order to grow larger. This is a regular process that will occur at regular intervals depending on the size, age, and species of the mantis. In some cases, mantids may experience bad molts- often leading to the death of the mantis. Aside from these complications, shell disease can be quite common especially in larger species such as
O. scyllarus
. To avoid these issues, keep water quality high, feed a varied and enriched diet, give you mantis plenty of hiding places and burrows to avoid stress, and ensure that iodine is at the correct levels (Iodine is known to help the exoskeleton separate from the body of many common saltwater shellfish and invertebrates.)
Mantis shrimp are not compatible with each other:
Do not keep mantis shrimp in the same tank with other mantids! They may be safe for awhile, but research has shown that they will eventually fight. With the exception of one species of mantis, even mating mantids will generally kill each other over time. This may not happen right away, but instead when one of the mantids molts. In its vulnerable molted state, it becomes much less capable of defending itself. Case in point:
Do not try to house mantids together in the same tank.
Conclusion
Mantis shrimp are incredibly intelligent critters. They see more colors and have better eyesight than humans. They are extremely efficient predators and it is always a joy to watch them hunt. Among all of the reef inhabitants that I have kept, my mantis shrimp was by far my favorite. While many consider them pests, they are certainly cherished by those who give them a chance and observe their many interesting habits and demeanors. I hope that in reading this, you have gained a better perspective of mantis shrimps and how to either humanely remove them from your tank or successfully care for them.
Edited by travisurfer, 15 December 2009 - 12:59 PM.