***UPDATE on 9/16/08 page 4***
***UPDATE on 9/1/08 page 3***
***LIVESTOCK UPDATE
5/30
:SPS & Crocea Clams page 2***
Hello everyone!
Background Info:
I've always wanted a tank with MH lighting, and this was it. I started to plan for my 3rd tank to upgrade from my 8G BioCube to a 10G AGA w/ 70W MH lighting. The BioCube wasn't cutting it anymore, and I wanted to move on to more difficult things like SPS and clams. I also wanted to have it set up like a pennisula tank, so it can be viewed from the front, and I can see it when I am sitting at my desk.
Tank Specs:
Tank:10G AGA
Light:70W SunPod MH Fixture w/ mounting legs
Filtration/Circulation:Koralia Nano, and a Whisper In-tank filter
Dosing:
B-Ionic 2Part-2.5mL of each daily
Feeding:
Phyto-Once a week
Pellets-a small pinch in the morning
I feed the GBTA about once every 1-2 weeks in an effort to hopefully keep the growth fairly slow.
Livestock:
Corals:
Xenia
Anthelia
GSP
Pink/Green/Orange Pocillopora
Green Pocillopora(added 5/30)
Rainbow Birdsnest(added 5/30)
Acropora Gomezi(added 5/30)
Freebie Acro(added 5/30)
Pink/Green Tipped frogspawn(added 5/31)
Inverts:
GBTA clone-It was about 1 1/2in when I got it a few months ago, now its 2in
Skunk Cleaner Shrimp
2 Crocea Clams(added 5/30)
Fish:
Oc. Clown
**Disclaimer!** I just bought a Canon Powershot S5 IS today so I am still getting used to the whole thing. Hints would be helpful!
Onto the pics!
There is a little bit of surface film but I have great flow so I don't know why.
Front:
Side: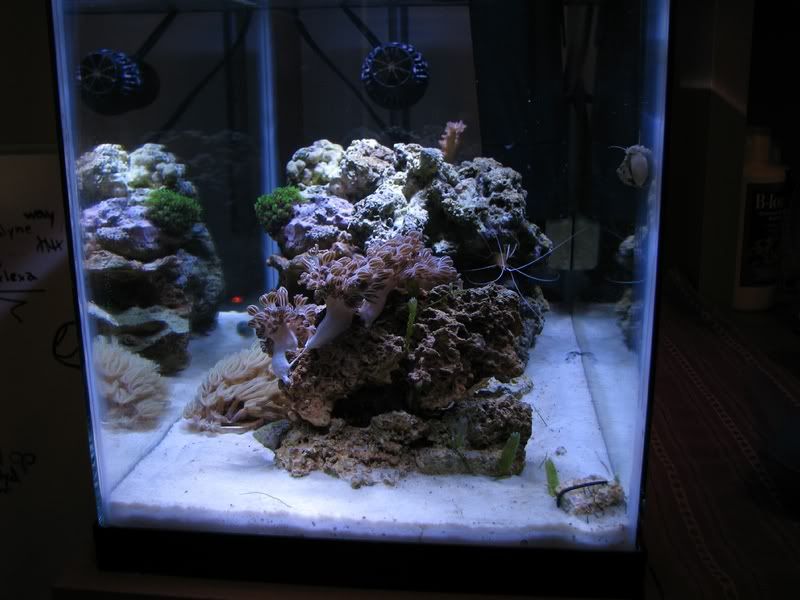 Back(my favorite view):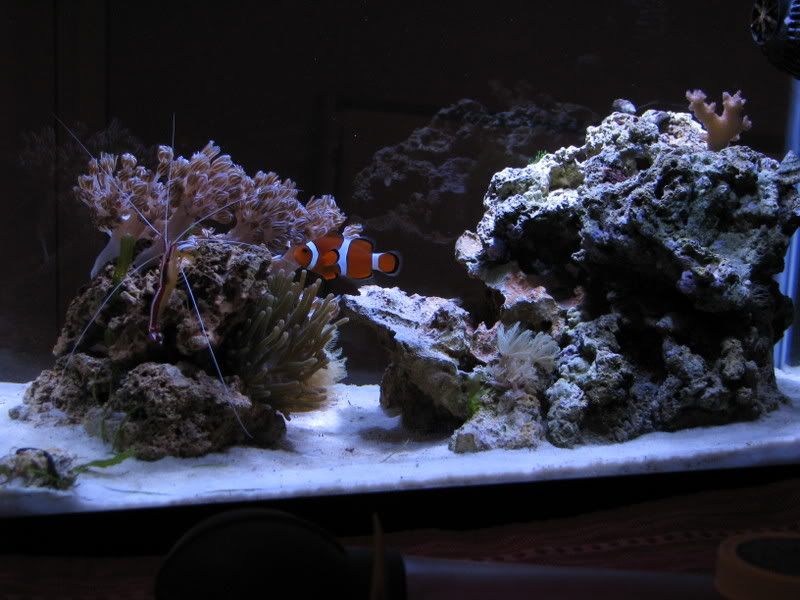 Comments welcomed!
-texx
Edited by irishtexan, 16 September 2008 - 01:09 PM.