A basic bacground on this is that members of SCNRS consulted with Advanced Acrylics to build us a custom AIO to specs that we would all agree to and purchase. The final product is a NICE beveled edge, "1/2 thick acrylic "12x"16x"12 sized AIO tank. The goal was to have a tank with a perfectly cube shaped display area, but be compact enough for most to afford. The goal was acheived quite well I'd have to say. Anyways on with the pics... I have yet to set the tank up, but will be doing so over the next day or two. Currently I'm going to run the tank with an MJ900 powerhead with a Hydor-Flo on the end of a "1/2 bulkhead in the false wall, and then have a Koralia Nano in the display. The total tank volume is around 10g when filled completely with water. I'll also have a 50w Visi-Therm Stealth heater in it as well. I'll be putting chaeto in the middle chamber and any filter media (and eventually a skimmer, Tunze DOC 9002 perhaps) in the intake chamber. The chamber was sized specifically to fit the Tunze skimmer in it and does so quite well!
The front of the tank:
The back of the tank:
A top'ish back view: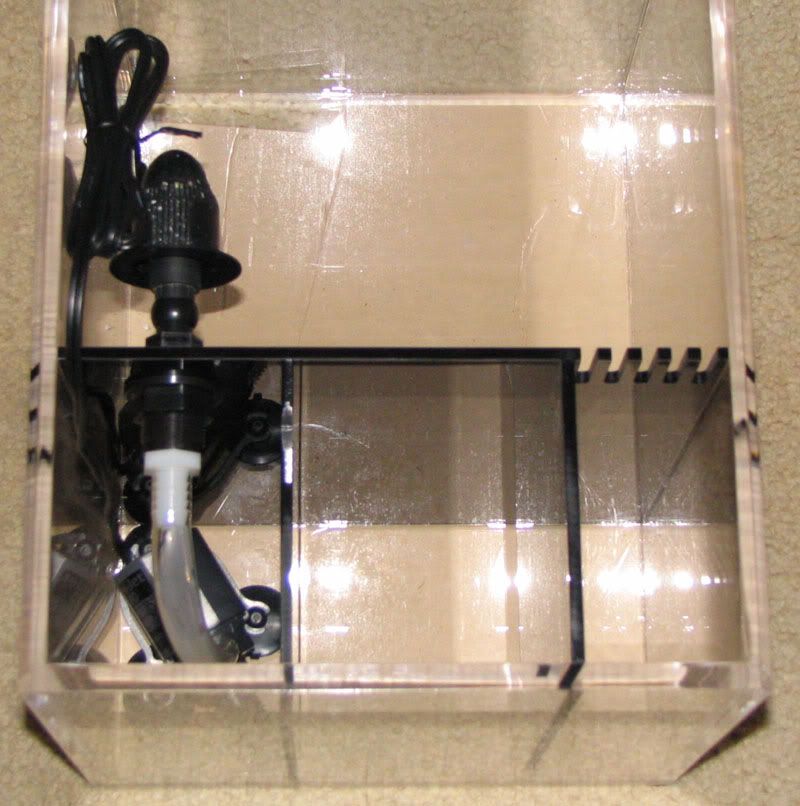 Edited by Phixion, 27 November 2008 - 07:33 PM.