Well I guess since Nano's are based on gallons and not dimensions I have to put this idea here...
While contruction hasn't begun yet, it looks like this is what will be coming... We still need to put the basement floors in (will be completed in the next month) but construction will begin as soon as the floors are in.
Here's a animated rendering... Tank will be 141.625x15.5x16.5. Orginally wanted a 16 footer but just not enough room to make it practical.
The tank will act as a room divider seperating our rec room into two areas, our kids play area and another TV room.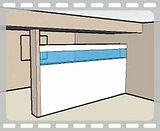 Edited by calvin415, 08 April 2010 - 11:08 AM.