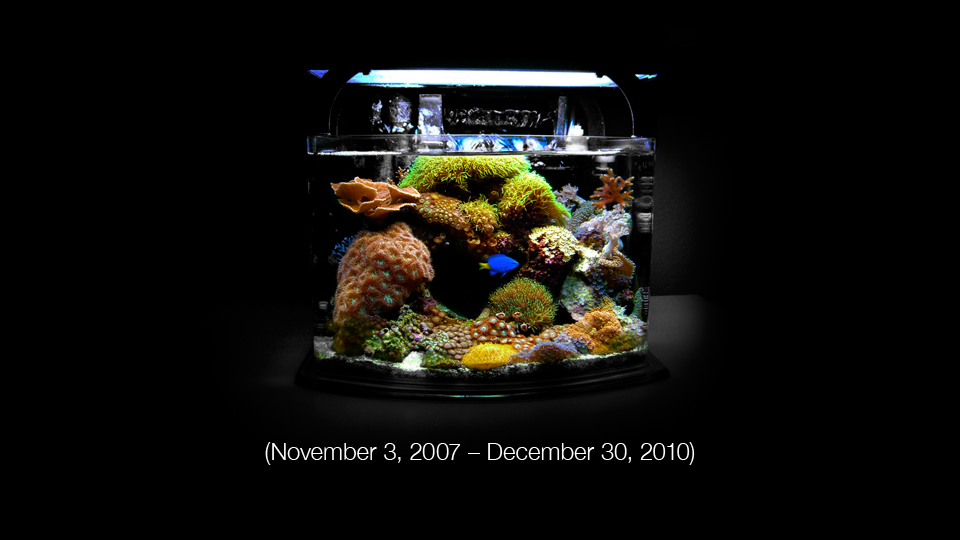 --------------------------------------------------------------------------------------
A couple months ago I got bit by the reef bug and decided to take the plunge. I searched around and liked a lot of the AIO's I saw but was really intrigued by what a lot of people have done with a 3 gal. pico. So after lurking around this site and reading everything I can, I went and got a JBJ Picotope. I've kept saltwater tanks before but that was about ten years ago so I had a lot of learning (and unlearning) to do. But I've done a good job at doing my homework, I think.
I really like the simplicity of the Picotope and want to keept it as minimalist as possible. That means no fuge, no skimmers, no bundles of equipment dangling everywhere. With that, I completely understand my limitations as far as what I can keep. I plan on keeping mushrooms, polyps, zoanthids, a ricordea would be nice, and eventually some sexy shrimps. And maybe two perculas, an anemone and a mandarinfish? Ha! I'm kidding. No fish or anemone.
Should I need/want anything more than that (which is now a growing possibility), I know I'll be better off with a Nano Cube or comparable setup.
My tank is now at Day 10 and so far things are looking good:
View from the left: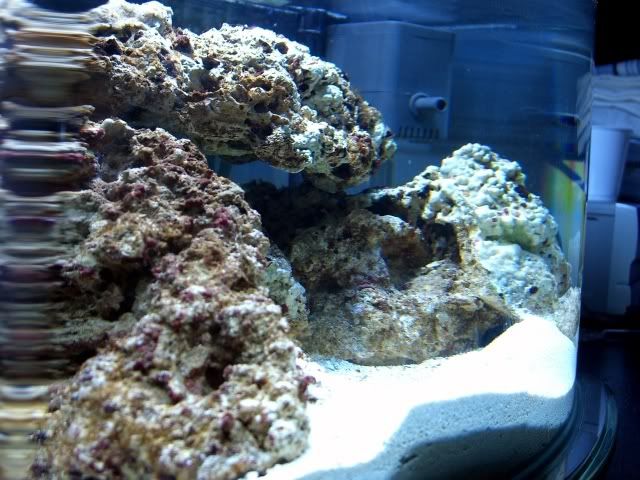 From the right: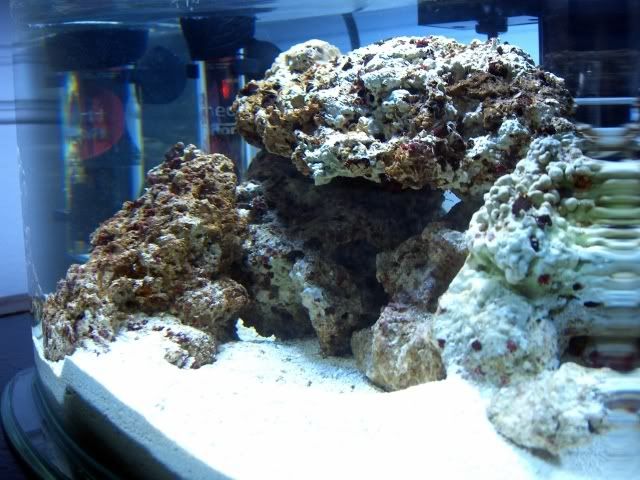 From the top:
Now for the juicy details...
I used 3 lbs. of CaribSea live sand and 6 lbs. of cured Fiji live rock from a new favorite LFS that I completely found by accident after a long hunt. I may have gotten too happy with the rocks and I think I have one rock too many. The nice thing is I can always take out that top rock if I need the space. But for now it's staying in.
Everything's stock and I plan on keeping it that way. For now I'm using the filter pads and carbon that came with the filter though I plan on eventually putting filter floss and Purigen in there. The only thing I've added so far is a 50W Hydor heater that I keep at 80° and a Rio 50 pump for added circulation so it now has a total of 100 gph.
I use Oceanic Natural Sea Salt Mix along with store-bought RO/DI water both for saltwater mix and top-offs. I'll be doing weekly 10% water changes. My tests are done with a Red Sea Marine Lab (
sketchy at best
) and an API Reef Master Kit. So far my parameters are as follows:
- Temp: 80° F
- sG: 1.023 ppt
- pH: 8.3
- Alk: 2.7 meq/L (10° dKH according to API)
- Ammonia: < 0.25 ppm
- Nitrite: 0 ppm
- Nitrate: 2.5 ppm (0 ppm according to API)
- Calcium: 500 mg/L
- Phosphate: 0
So far the tank has been looking good and some interesting hitch hikers have cropped up: a blue leg hermit, a mystery snail that looks a great deal like
this one
, bristle worms and tube worms and lots of copepods everywhere. Right now I'm waiting patiently for my cycle to get done so I can add my clean up crew.
I'm hooked on this thing and I can't get enough! It probably won't be long before I set up a larger tank, and I'm only ten days into my cycle! lol I'll definitely keep this thread posted as I go along.
Last (but not least) I want to thank all the great people on this site for all your valuable information and inspiration. Thanks!
--aaron
Edited by el fabuloso, 30 December 2010 - 04:17 PM.