Ok, after a year or so of talking myself out of trying this, I couldn't hold out any longer. Got back on this site to soak up all I could before starting. So I first set up the tank and ran with fresh water for a couple days to test for leaks. Decided to upgrade pump in chamber three to MJ900 with a hydorflo. Installed a bulkhead fitting in chamber one and retrofit stock pump there with a section of locline and the stock duckbill tip. I cut down a piece of the foam sponge into three pcs. Will run with a piece of sponge topped with floss sitting on the bulkhead fitting just below the return in chamber one for now.
I wanted some sort of splash shield for the back of the stand so I could mount the ballast and timers and stuff back there. Also not knowing what type of fuge lamp I would wind up with maybe I could use a shelf. I found an new old stock Plexiglas door at work and decided to use this. Cut to shape of tank and let overhang in the back. Countersunk two screws to hold in place.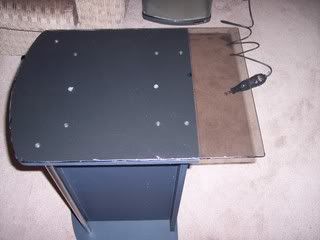 While at lowes hunting for a lamp to use for tank maint. and also for the makings of a fuge light I found this in the clearance bin. It should serve as both. Cheesy, maybe, but It should work I hope. (Not bad for five bucks?)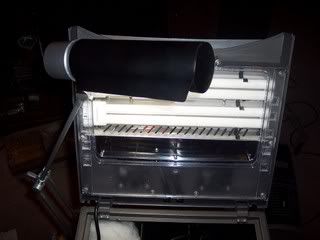 Mounted ballast and timer/powerstrip on backof (tiny/almost useless stand)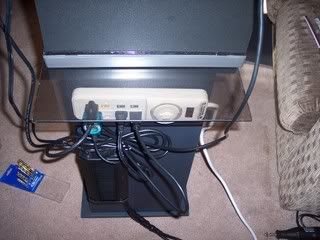 cut back for fuge... (hope your all not bored already !)
And there you go from the front not so bad ??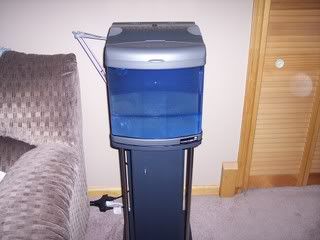 Ok, Ok mixed up reef crystals and let run and get up to temp. Was able to get l/r the next day from lfs. Got home to realize I suck at rock scape-ing. Wound up with this... l/r stadium???
so guys thats pretty much how we sit up to now. Tank was "born" on Super Sunday. After one day sg--1.025. Ammonia--.25 temp---79.5 'trites and trates zip at this point. Suggestions as to how often I should test?? I was thinking every other day??
Well thanks for checking it out. Any input good bad or ugly is greatly appreciated. Will be begging for your help along the way. I'll try not to be too much of a PITA but I cant promise
Why is my post so HUGE LOOKIN ?? sorry
Edited by Needreefunds, 05 December 2009 - 05:02 PM.