My Summary:
I've always tried to find the ultimate setup ranging from simple to very complex and I've gone through 4 different reef setups in the last 2 years trying to find what would work best and they all worked just fine, I can't really say anything worked better than the next. Finally I just wanted a tank that was simple and worked, providing plenty of room for corals and just as much of a viewing area, all while keeping costs to a minimum. In the end I had to build the tank I wanted, but I'm thrilled with the results.
pH: 8.3
Temp 79*
S.G. 1.025
Ammonia 0
Nitrites 0
Nitrates 0
Ca 390-400
Alk 8 dkh
The Tank
Outside Dimensions 48x11.75x7.875 made of 3/8" acrylic leaving
Inside Dimensions of 47.25x11x7.125 for those of you who have an issue with this, when you build your own nano tank and have almost 20% of your display volume tied up in materials (2 gallons) you can measure how you like.
Sump Dimensions of 36x5.25x7.125 (1/2" thick)
Resulting in a display volume of 10.2 gallons and sump volume of 2.5 gallon (sump is 1/2 filled)
The Build
First the plan...
Then, fabricating it...
and polishing (by hand takes a while...)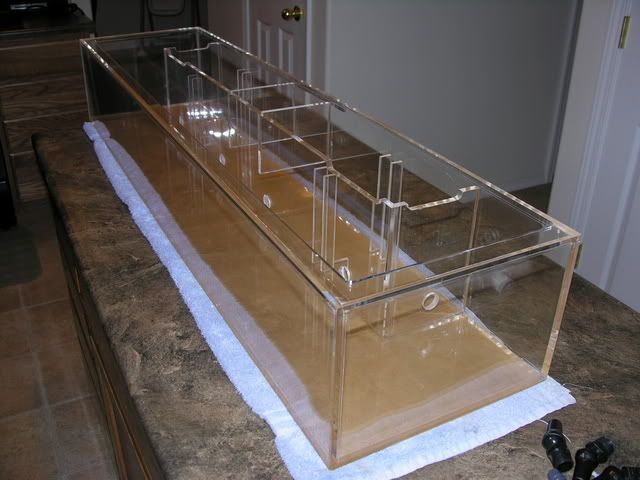 Plumbing was equally daunting as some of the pieces were still to large to assemble and required some serious dremel work to get it to fit.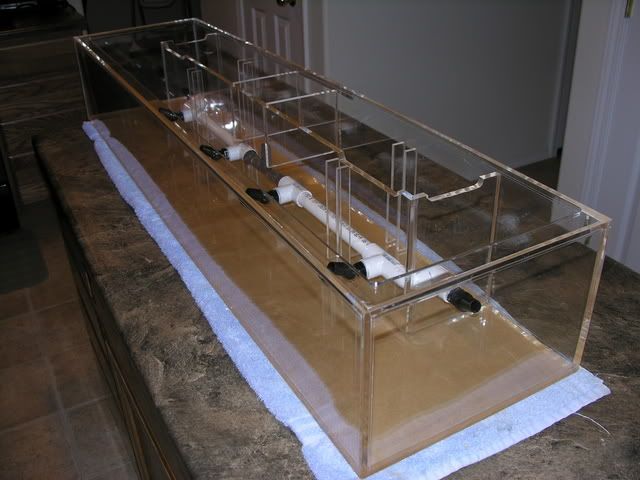 My original plan to have the black background removable was a great idea IMO however it's not realistic once the tank is up and running. The two biggest hurdles is the sand and the rocks, and as I've discovered now is the lack of support for the front of the tank. Mine is still solid but it bows way more than I'd like it to, if anyone plans to do something similar please fore-go the cover and add a crossbrace.
The 2 ViaAqua 1300 pumps provide plenty of flow as you can see here: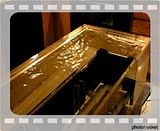 And a back shot of what is actually going on in the overflow box...
The sump overflows in two places on each side for a total of 4 overflows all which direct water through a HOB filter cartridge. The remaining room from the filter cartridge to the return pumps is for refugium and is loaded with Chaeto.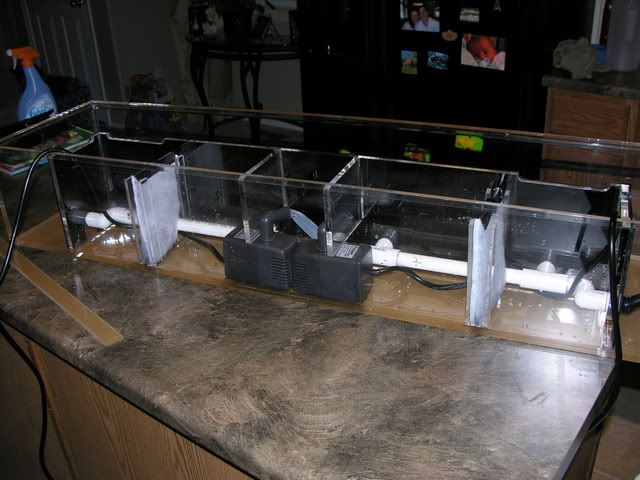 Setup
Next came the task of mounting it on the wall. I was able to find steel brackets each capable of holding 500lbs each (total of 1500lbs w/ 3 of them) and mounted them to 2x6 studs using 3 lag bolts per bracket. Please mind the cables in this pic, it was just setup and didn't take the time to clean up with wiring.
I added rock which had been cooking in my basement for the last 6 months and with the help of a hammer and screwdriver I was able to get 3 large rocks to fill the tank.
This barebottom look lasted about 15 hours (long enough to sleep on it and go to work the next day) I was sick of it that quick and added sand immediately.

Lighting
Next task was to build a canopy which took me another month to do, but in the mean time the rock was able to really set up...
I ended up going with a 3x54w T-5 setup (11k:Act:11k) compliments of GrimReefer (thanks again bud!) and installed it in a black acrylic canopy which I also built.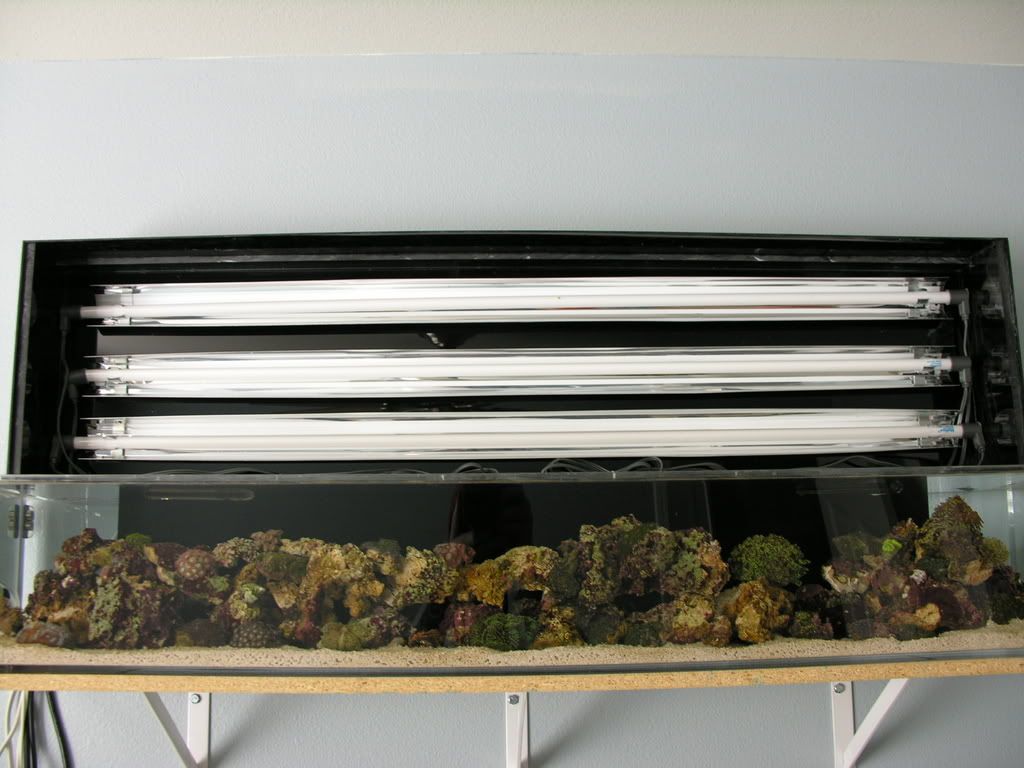 Stocking
Coral additions started small 3 or 4 at a time here and there, a big thanks to all those who helped by providing corals and helping with the tank (Russ, Robert, Scott, Dan, Todd, and Paul)
Here's a list of most of the livestock, I'm sure I'm missing some, but last count was 61 corals/clams...
Fish
• Target Mandarin (only for flat worm control then will be moved/traded)
Inverts
• Asst. Snails and Crabs
• Emerald Crab
• 2 Harlequin Shrimp
• 2 Peppermint Shrimp
• 1 Pistol Shrimp
• 5 Crocea Clams
• 1 Derasa Clam
• Asst Stars for Harlequins to eat
Corals
• Emerald Zoanthids
• Green w/ brown skirt Zoanthids
• Red Ring Zoanthids
• Fire & Ice Zoanthids
• Pink Mouth Red Skirt Zoanthids
• Orange Mouth Green Skirt Zoanthids
• Green Mouth Green Skirt Zoanthids
• Yellow w/ purple mouth Zoanthids
• Yellow Mouth Green Skirt Zoanthids
• All Green Zoanthids
• Red w/ Purple Mouth Zoanthids
• Bubble Gun Zoanthids
• Green w/ Yellow Skirt Zoanthids
• Orange w. Yellow Mouth Zoanthids
• Green Polyp Toadstool Leather
• Orange w. Blue center Candy Cane
• Purple w/ Blue center Candy Cane
• Neon Yellow Candy Cane
• Green/Purple Hammer
• Yellow Tip Torch
• Green/Purple Frogspawn
• Puple/Blue Acan
• Neon Green Acan
• Green/Red Acan Lord
• Peppermint Acan Lord
• Oranage Enchinada
• Rainbow Enchinada
• Alien Eye Enchinada
• Puple Blue Micromusa
• Tri Color Acan
• Blue Mushrooms
• Green Stripe Mushrooms
• Tri Color Ricordia Yuma
• Green Florida Ricordia
• Orance Florida Ricordia
• Teal Florida Ricordia
• Blue/Orange Florida Ricordia
• Blue Florida Ricordia
• Rainbow Florida Ricordia
• Pink Green Blasto Merletti
• Red Blue Blasto Merletti
• Red Purple Blasto Merletti
• Pink Yellow Blasto Merletti
• Light Pink Neon Green Blasto Merletti
• Purple Green Blasto Merletti
• Pink Green Blasto Welsi
• Purple Blasto Welsi
• Purple Blue Chalice
And some pics of a few of my favorites as they were added.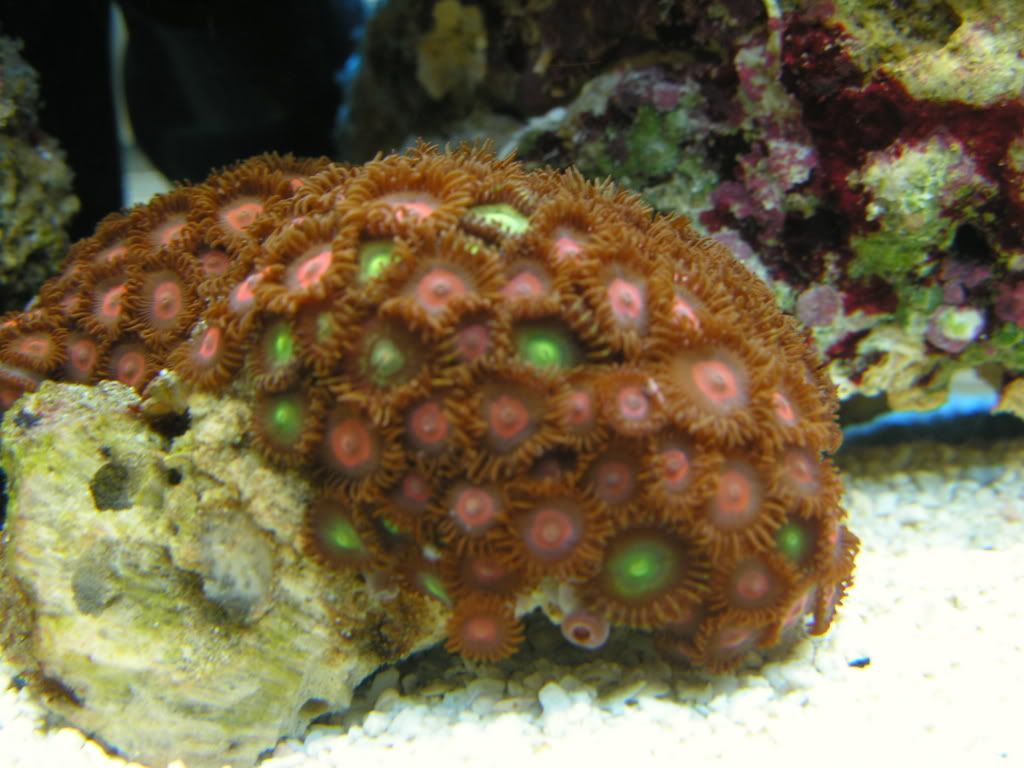 One of my favorites was this Goniopora which was traded after outgrowing the tank in about 6 weeks...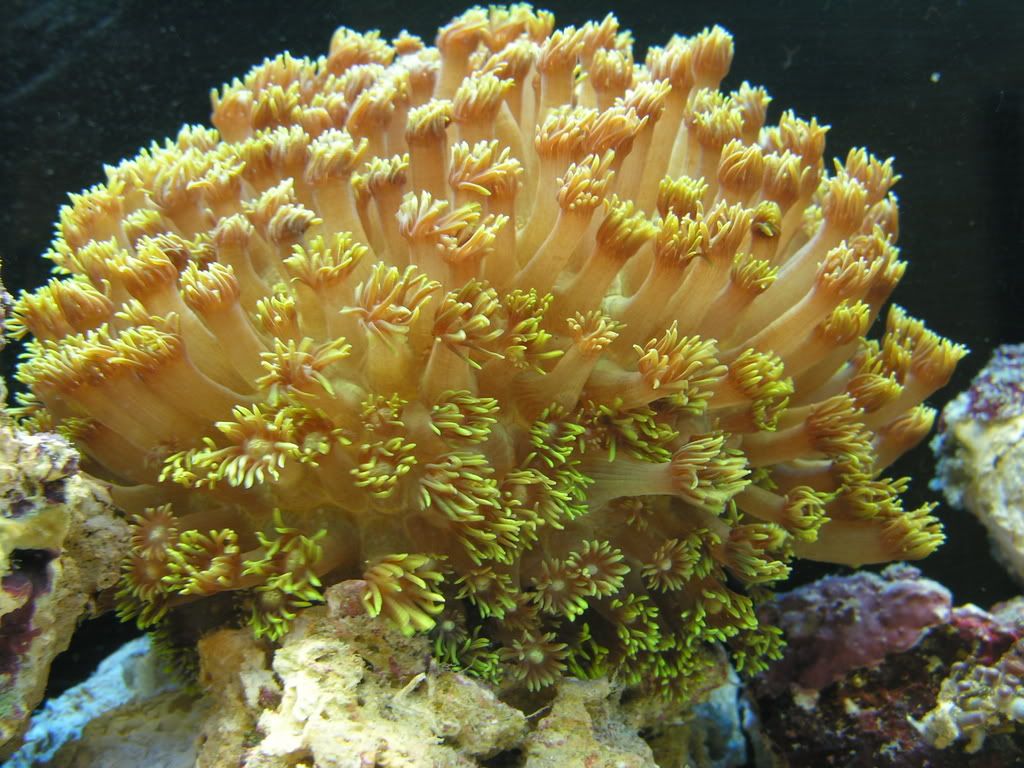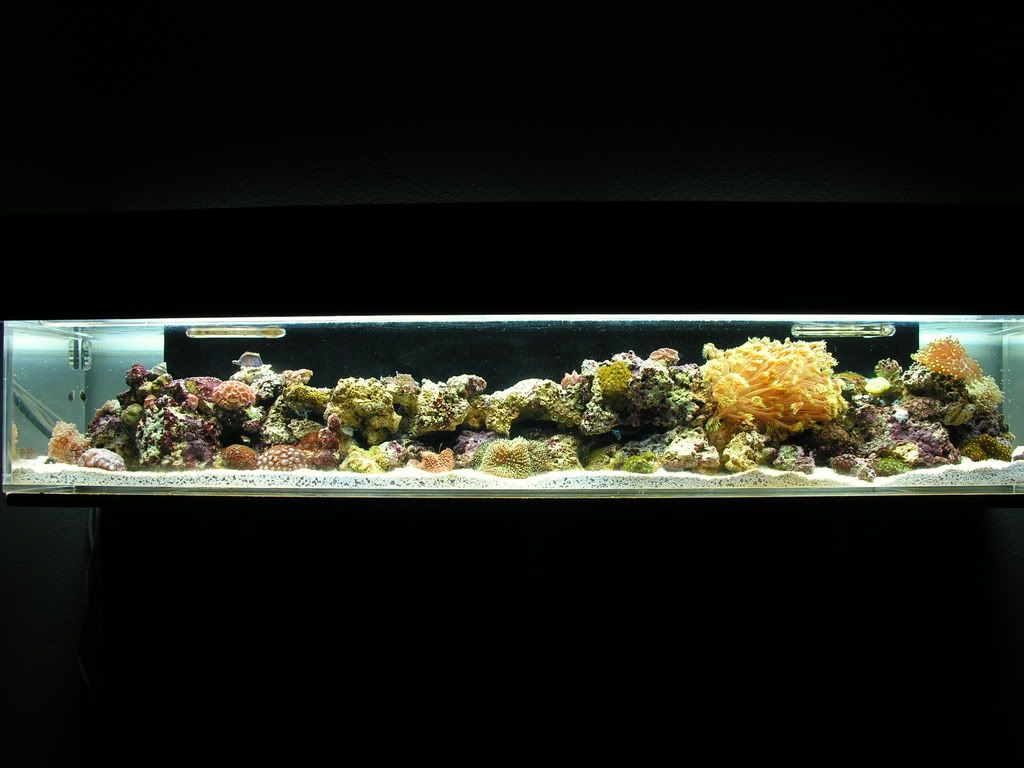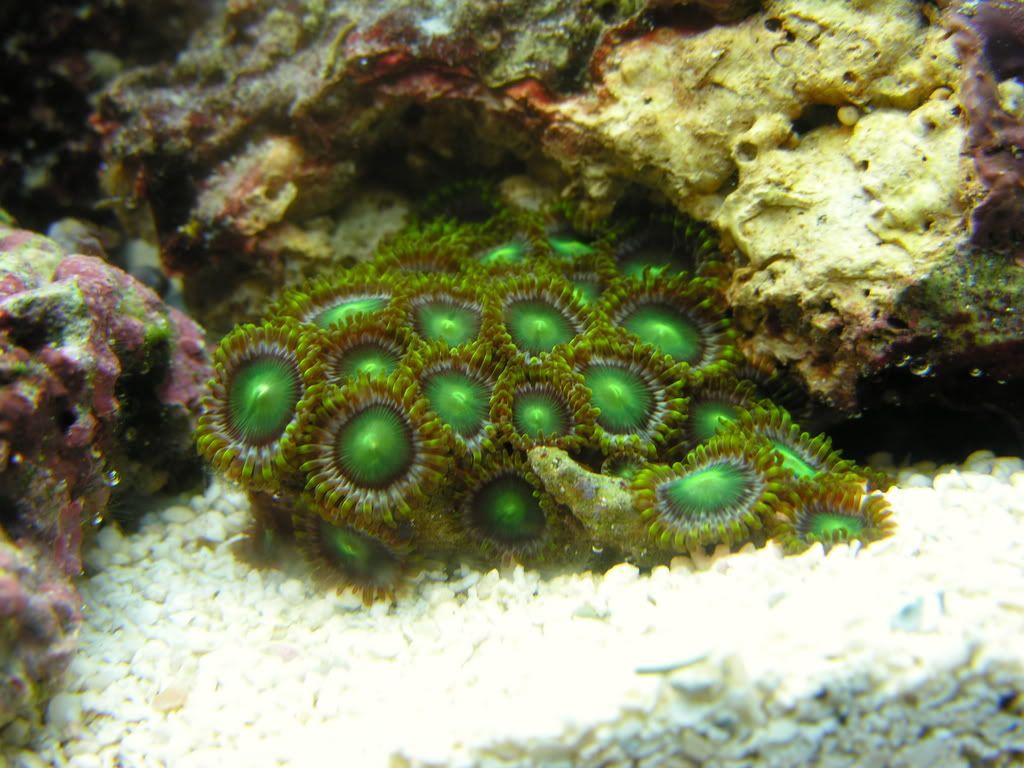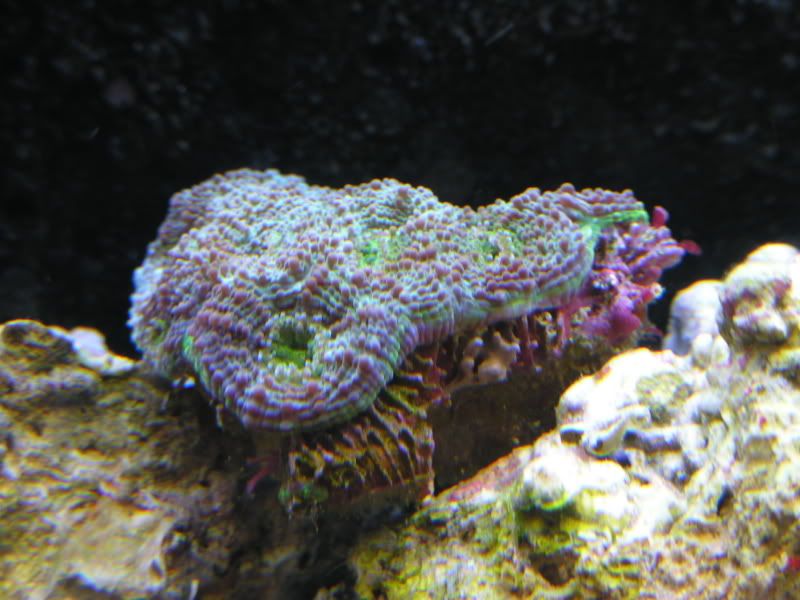 FTS's

One of my two harlequin shrimp.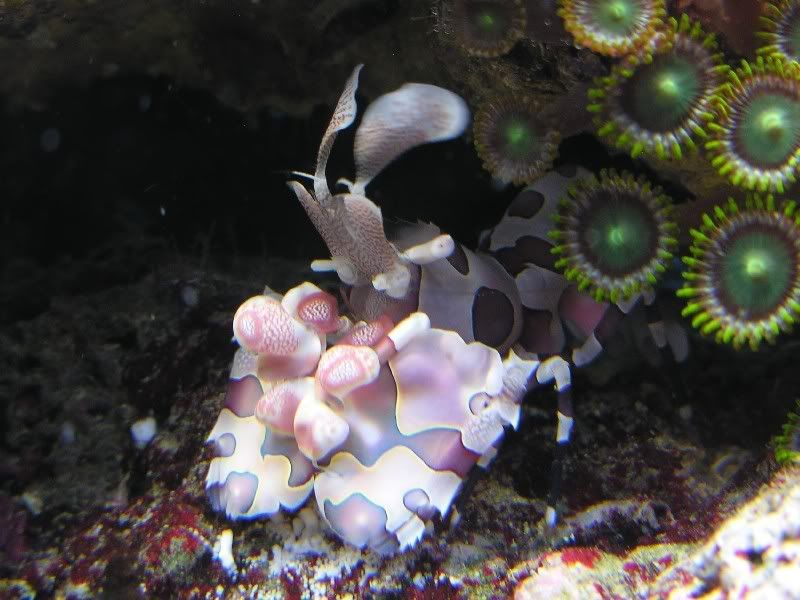 And a few closeup's.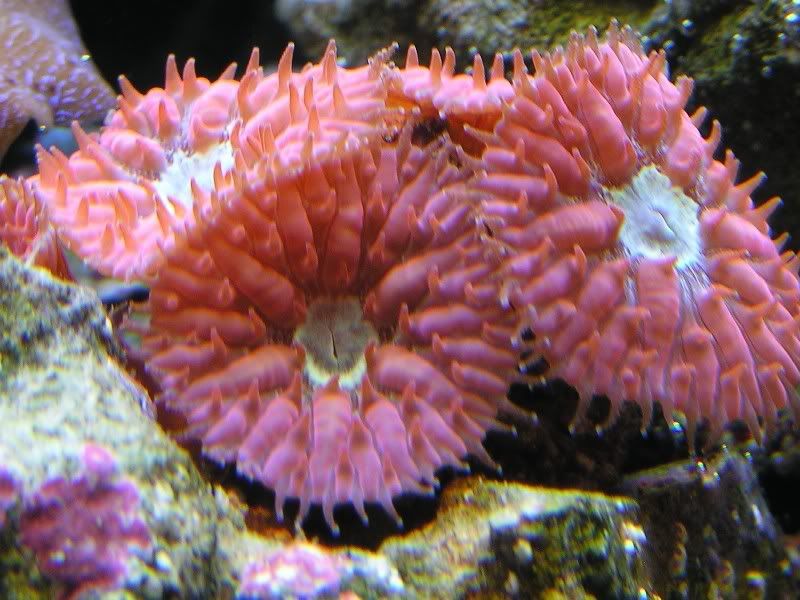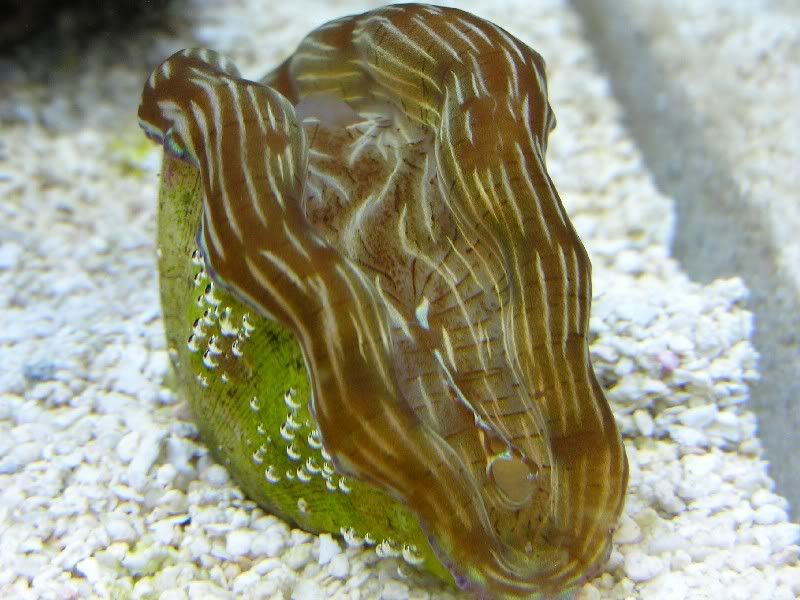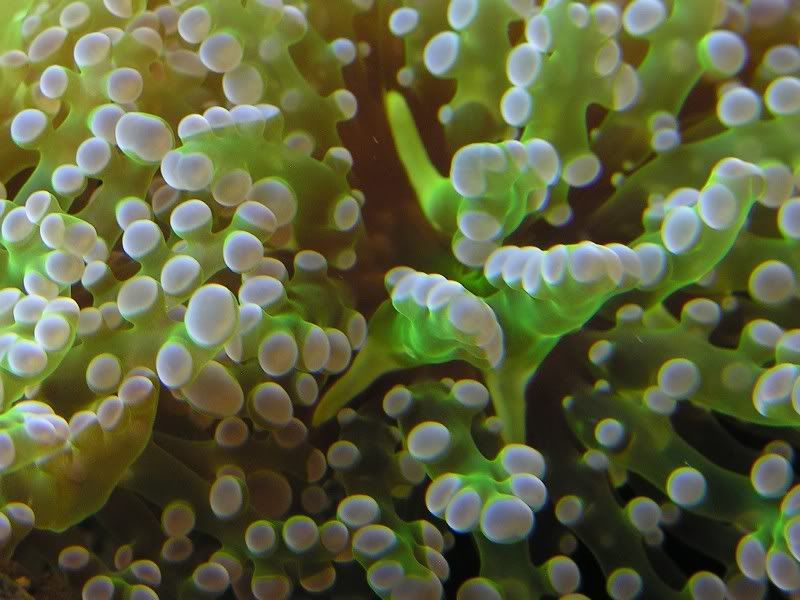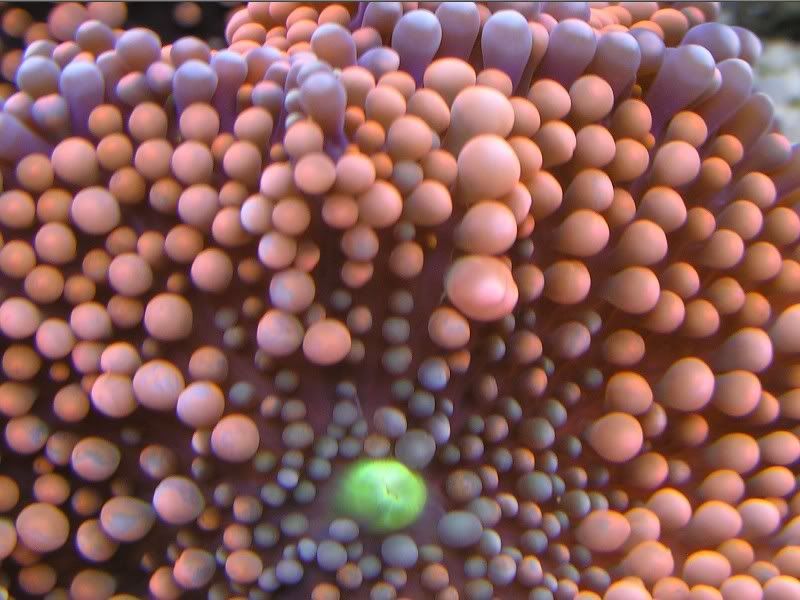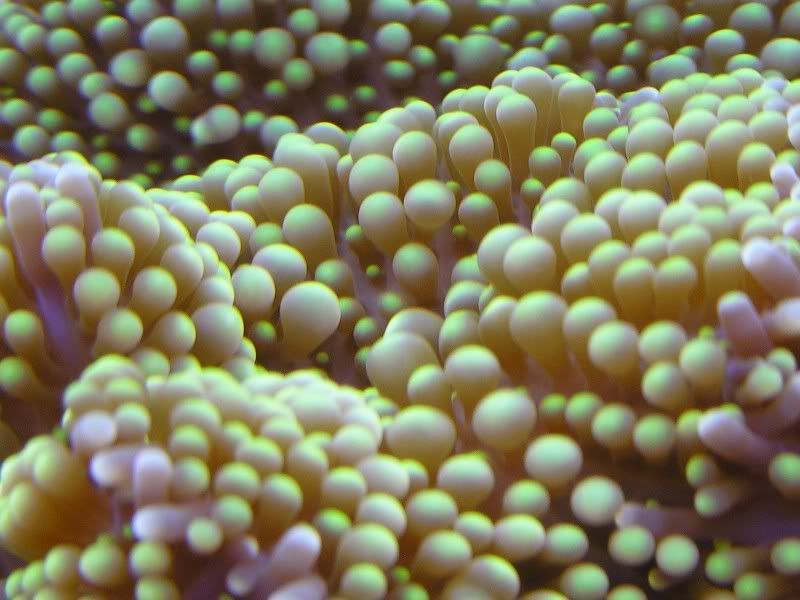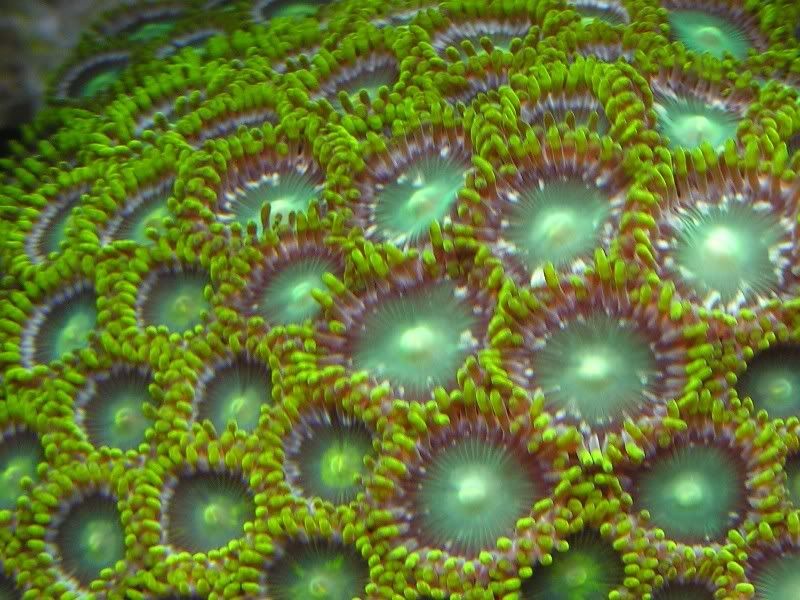 Edited by calvin415, 03 April 2007 - 07:54 PM.