Florida Gorgonian Garden
This tank has been on the drawing board for quite some time as I came up with my ideal system, one that would still be small enough to throw in the back of the car and move if necessary. Imagine my surprise shortly after buying the tank to find that there was a new competition running, and I was already planning a tank that would fit right in!
The focus of this tank will be a habitat display consisting of shallow water soft corals that could be found together on a mixed hard and sandy bottom in southern Florida. Some of the feature organisms will include: photosynthetic gorgonians, Florida ricordea, Florida zoanthids, Florida corallimorphs, and macro algae. Things that I donít plan to add to the tank, but still want to encourage the growth of include filter feeding organisms like sponges and tube worms that are very common there. To that end, this will be a heavily fed tank with heavy nutrient export capacity and high water motion. Bright light would also be typical for this environment. Most of the tank inhabitants will be coming from collectors in the Keys, and the bulk will be filled in with animals from other sites in the Caribbean whenever possible.
Entry Photo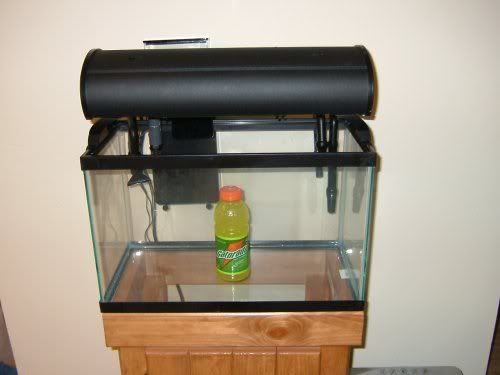 Tank
10 gallon AGA
Lighting
20Ē 70 watt Sunpod metal halide system
Circulation and Filtration
Nano Remora with MaxiJet 900
Aquaclear 50, filled with LR rubble and as a space for chemical filtration
Closed Loop System with SCWD, powered by another MaxiJet 900
Temperature Control
Jager 50 watt heater (if necessary)
Desk fan blowing across surface of aquarium (if necessary)
Chiller (if necessary!)
Livestock
Iíve been planning the upgrade to a habitat-specific 10 gallon tank for quite some time, so I already have many of the life forms that will go into this tank. This is a rough outline of what I already have, and some planned additions.
10 lbs. aquacultured Florida live rock
Unknown amount of indo-pacific liverock (as needed)
Deep sand bed for macros and mantis shrimp
Orange sea rod,
Muricea elongata
Purple sea plume,
Pseudopterogorgia spp.
Yellow sea whip,
Pterogorgia citrina
Florida ricordea,
Ricordea florida
Atlantic zoanthids
White encrusting zoanthid,
Palythoa caribeaorum
Bubble mushroom,
Discosoma sanctithomaeDiscosoma carlgreni
Harlequin serpent star,
Ophioderma appressum
Porcelain crabs,
Petrolisthes spp.
Rainbow mantis,
Pseudosquilla ciliate
Astrea snails
Cerith snails
Nerite snails
Sabellid hitchhikers
Serpulid hitchhikers
Sponge hitchhikers
Bivalve hitchhikers (including two Atlantic thorny oysters smaller than a pencil eraser)
Halimeda
algae
Other macroalgae
The mantis shrimp is a spearing species that should be uninterested in eating my invertebrates. I donít plan on adding it until I am mostly done aquascaping the tank, and Iím not entirely sure I will be able to find one of the right species by the end of competition.
There are some other animals Iíd like to eventually add that probably wonít be added within the span of the competition. This includes challenging filter feeders like flame scallops, Christmas tree worms, and sponges. Many of these are common to abundant in southern Florida waters, and are favorite organisms of mine, but Iím hesitant to add them without serious consideration first. I plan on watching the filter feeders that have hitchhiked in over a year or so and seeing how they do in my tank before intentionally adding any more, especially since husbandry of these animals is iffy. If similar animals already in the tank show growth and reproduction, Iíll consider adding some of these trickier animals. And it will give me time to decide if I want to try to find a collector who offers Florida Christmas tree worms, of if Iíll go in for the almost-identical indo-pacific Christmas tree worms, typically offered already embedded in
Porites
coral.
More to follow
Edited by Rene, 18 October 2006 - 05:05 PM.